SOLL Virtual Pilgrimage 2020
Message from our Chairman, Dave Farrow

22nd May, 2020
Today we should have travelled on SOLL's annual pilgrimage to Lourdes.
Many I suspect may pause to reflect on what they might have been doing during this week. This is the second time in our history that the Society has not travelled to Lourdes, and the first time it is not attributable to human conflict.
Amid a plethora of stats and forecasts, debate on cause and remediation in an age sometimes described as post Christian, the challenges faced by those with existing conditions, isolation and hardship have been to the fore and have been met overwhelmingly with a kind and empathetic response in Britain and around the world – a spirit even.
So many have responded: people are willing and want to help, whether assisting with fetching and carrying, having a chat, or showing appreciation for the work of others.
For those of us who have been on pilgrimage this is not new. We do all these things every year in the south of France - even the clapping.
This year, though we have not gone to Lourdes; Lourdes has come to us.
Some have grown their faith during lockdown, others have lost it or will not miss the pilgrimage experience. One year I did not go and didn't miss it, to the obvious disappointment of the many who asked. But when I came back, the welcome and the break renewed my enthusiasm and I was pleased I was there. If you are one of those who conclude "that's it", please come back one more time next year and if the reset button doesn't work for you, maybe let Our Lady know what you think down at the Grotto and see what she says.
In 2021 we prepare to return to Lourdes. Arrangements for travel were a challenge anyway, especially from the West Country, they are obviously even harder in the future. So the Society needs your support and the support of those you know because we want to go back BIG and tap that spirit – that desire to help others – that has been so evident in 2020 in our homes and communities.
You are invited to join the following events during our pilgrimage week. The theme this year is "I am the Immaculate Conception."
A Special Message from Archbishop Kevin at the beginning of our Pilgrimage Week to Our Lady:
Dear Pilgrims
Sadly we will not be together in Lourdes this year for the Novena to the Holy Spirit which we observe in preparation for the Feast of Pentecost.
I commend our programme of virtual events which will enable us to make this novena together even though we are not in Lourdes.
May the Holy Spirit bless, heal and comfort you in these difficult times.
With my blessing and good wishes
Archbishop Kevin
NOVENA
Introduction
Begin by saying the following prayer...

O Holy Spirit, Divine Consoler!
I adore you as my True God.
I bless You by uniting myself to the praises
You receive from the angel and saints.
I offer You my whole heart,
and I render You heartfelt thanks
for all the benefits You have bestowed
and do unceasingly bestow upon the world.
You are the author of all supernatural gifts
and who did enrich with immense favours the soul
of the Blessed Virgin Mary,
the Mother of God,
I beseech you to visit me by Your grace and Your love,
and grant me the favour
I so earnestly seek in this novena...

State your request here...

O Holy Spirit,
spirit of truth,
come into our hearts:
shed the brightness of your light on all nations,
that they may be of one faith and pleasing to You.
Amen.

Come, O Holy Spirit,
fill the hearts of your faithful,
and kindle in them the fire of Your love.
Recite the prayer of the appropriate day...
DAY ONE
Friday, May 22nd
O Holy Spirit,
bestow upon us Your seven holy gifts.
Enlighten our understanding that we may know You.
Give us wisdom that Your will may be clear to us
and that we may accept it.
Grant us the gift of counsel
that we may always perceive what is right.
Fortify us that we may always be capable
of fulfilling Your Divine Will.
Inspire us with the spirit of learning
that we may be able to penetrate more deeply
into the truths that You have revealed.
Let our hearts be steeped in the spirit of childlikeness
that we may bring You joy.
Let us have proper fear of God
that we may never grieve You
or wander from the path of goodness.
Give us the fulness of Your gifts
that we may glorify You.

Amen.

Look with compassion upon us,
O Holy Spirit, and grant us the favour we seek in this novena...

State your request here...

if it be in accordance with Your Holy Will.

DAY TWO
Saturday, May 23rd
O Holy Spirit, make me faithful in every thought,
and grant that I may always listen to your voice,
and watch for Your light,
and follow Your gracious inspirations.
I cling to You,
and give myself to You,
and ask You by Your compassion
to watch over me in my weakness.
Holding the pierced feet of Jesus,
looking at His Five Wounds,
trusting in His Precious Blood,
adoring His opened side and stricken heart,
I implore You adorable Spirit,
helper of my infirmity,
to keep me in Your grace,
now and always,
and grant me the favour I ask in this novena..

State your request here...

Amen.

Come, O Holy Spirit,
fill the hearts of Your faithful,
and kindle in them the fire of Your love.

DAY THREE
Sunday, May 24th
Heavenly Father,
You have called me to be a member
of the mystical body of Your Son, Jesus Christ,
and to be a temple of the Holy Spirit.
I ask You to give me these gifts of the Holy Spirit:
wisdom, that I may understand the follies of this world;
understanding, that I may grasp more fully
the meaning of my existence
and the purpose of all things in the world;
counsel, that I may always choose the proper way;
fortitude, that I may remain faithful to You
under the pressure of temptation.;
piety, that I may revere You in all I do, think or say;
fear of the Lord, that should the motive of love fail me,
I may quickly be awakened to the eternal consequences of my deeds.
Visit me by Your grace
and Your love
and grant me the favour I so earnestly seek in this novena...

State your request here...

Amen.

Come, O Holy Spirit,
fill the hearts of Your faithful,
and kindle in them the fire of Your love.

DAY FOUR
Monday, May 25th
O God, Who today by the light of the Holy Spirit
did instruct the hearts of the faithful,
give us, by the light of the same Holy Spirit,
a love for what is right and just
and a constant enjoyment of His comforts.
Pray Holy Spirit,
that I may strive to learn more of my faith;
that I may ever be conscious that reason in all
its human magnificence is capable of grasping
but a glimpse of the reality that is God.
Pray that I may accept as the motto of my life:
"All for the greater glory of God"
and grant me the favour I so earnestly seek in this novena...

State your request here...

Amen.

Come, O Holy Spirit,
fill the hearts of Your faithful,
and kindle in them the fire of Your love.

DAY FIVE
Tuesday, May 26th
Come, O Spirit of sanctity, from the glory of heaven
and send forth the radiance of Your light.
Father of all the poor, light and peace of all hearts,
come with Your countless gifts.
Consoler in desolation; refreshment full of loveliness,
come dear friend of my soul.
In weariness send repose; breath gently cool refreshing breeze;
console the desolate who weep alone.
Light of Beatitude, make our hearts ready;
come enter our souls.
Without Your grace, man stands alone;
he cannot be good or sure.
Cleanse what is soiled; heal what is wounded;
moisten what is arid.
Bend the stubborn will; warm the cold heart;
guide the wandering footstep.
O Holy Spirit, we beg You to give us grace
through Your sevenfold power and grant me the favour
I so earnestly seek in this novena...
State your request here...
Give us merit for the present,
and one day beatitude
when we have finished our earthly journey.

Amen.

State your request here...

Come, O Holy Spirit,
fill the hearts of Your faithful,
and kindle in them the fire of Your love.

DAY SIX
Wednesday, May 27th
O Father in Heaven,
I beg You to send the Holy Spirit.
May Your Holy Spirit remind me
when I am apt to forget Your law.
Your love, Your promises.
May Your Holy Spirit strengthen my memory
to recall frequently Your sanctity,
omniscience, wisdom, and goodness,
faithfulness, and love.
May Your Holy Spirit encourage me when I am slothful;
strengthen me when I am weak;
enlighten me when I no longer can help myself.
Breathe into me, O Holy Spirit,
that I may do what is holy.
Stir me, that I may love what is holy.
Strengthen me, that I may preserve what is holy.
Protect me, Holy Spirit,
that I may never lose what is holy
and grant me the favor I so earnestly seek in this novena...

State your request here...
Amen.

Come, O Holy Spirit,
fill the hearts of Your faithful,
and kindle in them the fire of Your love

DAY SEVEN
Thursday, May 28th
Come, Holy Spirit, creator of all things:
come visit our hearts with Your power.
Fill with grace, friendly guest,
the hearts which You have created.
You are called the Consoler, gift from the hand of God,
source of life, light, love, and flame, highest good.
You are the pledge of sevenfold grace,
finger of the Father's hand, promised us by Him,
and You make our tongues speak the truth.
Cast light on our senses, pour love into our hearts.
Grant our weak bodies strength
that they may never grow weary of doing good
and grant me the favour I so earnestly seek in this novena...

State your request here...

Keep the enemy far from us, give us peace always,
let us willingly follow in Your footsteps
that we may be far removed from sin.
Grant that through You we may grow in knowledge of the Father and of the Son, and that we may ever strongly believe in You, the Spirit of both.
Praise and honour be forever to the Father on the highest throne, in the risen Son of God, in the Consoler.

Amen.

Come, O Holy Spirit,
fill the hearts of Your faithful,
and kindle in them the fire of Your love.


DAY EIGHT
Friday, May 29th
O Holy Spirit, life and light of the Church,
give us thoughts higher than our own thoughts,
and prayers better than our own prayers,
and powers beyond our own powers,
that we may love and live, imitating Jesus Christ,
our Lord and Saviour.
Come to us, Holy Spirit, come with the Father and the Son
and grant me the favour I so earnestly request in this novena...

State your request here...

Vouchsafe to dwell within our souls
and quickly make our hearts Your own.
Quench in us the fires of hate and strife,
the wasting fever of the heart.
From perils guard our feeble life
and to our souls Your peace impart.
Let voice and mind and heart
and strength confess
and glorify Your name
and let the fire of charity burn bright
and other hearts inflame.

Amen.

Come, O Holy Spirit,
fill the hearts of Your faithful,
and kindle in them the fire of Your love.


DAY NINE
Saturday, May 30th
O Lord, Holy Spirit,
grant me sight to see the wondrous promise of divine love;
insight to see my own weakness;
delight in Your divine presence in my soul
which You have made Your temple through sanctifying grace.
I pray, O Holy Spirit,
that I may be not doubting;
that I be spared the pain of being alone
without trust or hope in Christ;
that my prayer may always be "My Lord and my God!"
I pray that I may acquire a sense of retreat
to prayer and recollection at various times in my daily life;
for prayer is the bond that joins us to Christ.
I pray that I may be aware of the physical needs of the poor
and that I may share what I can with them
in the charitable works of the Church.
I pray, O Holy Spirit, that You will in Your mercy
grant me the favour I have sought in this novena...

State your request here...

Amen.

Come, O Holy Spirit,
fill the hearts of Your faithful,
and kindle in them the fire of Your love.
Come Holy Spirit,
fill the hearts of the faithful...
SOCIETY OF OUR LADY OF LOURDES - VIRTUAL PILGRIMAGE 2020 - ITINERARY AND JOINING DETAILS
Day Time Event Extra Info

Sunday 24th 14.30 Welcome Archbishop Kevin
View or Download Here

Sunday 24th 16.00 - Mass (English) Lourdes Live at the Grotto
16.30
Sunday 24th 21.00 Torchlight We ask pilgrims to stand out in
Procession their backyard, balcony etc and
say a decade of the rosary.
We then ask them to post their
photos to FB and Twitter.

"In this peaceful night, we are
watching. We pray. No longer each
one in secret, but as an immense
people marching after the risen
Jesus Christ, enlightening one
another, training one another"
-Pope John Paul II in Lourdes, August 14, 1983, at
the end of the Marian procession.

Monday 25th 17.00 Eucharistic Reflections by
Procession Fr Dennis Cassidy

"Go tell the priests that we build
a chapel here and that we come
there in procession,"
said the Virgin Mary to Bernadette
Soubirous during an apparition.

Tuesday 26th 16.00 Mass (English) Lourdes Live at the Grotto
Tuesday 26th 17.30 - Intentions of the Reflections by Fr Terkura
18.00 Youth
View or Download Here

VIEW VIDEOS FROM ST. MICHAEL'S CATHOLIC HIGH SCHOOL STUDENTS BELOW


Wednesday 27th 7.00 Rosary Lourdes Live at the Grotto
Wednesday 27th 7.30 Lauds and readings Lourdes Live at the Grotto
(French)
Wednesday 27th 17.00 Anointing of the Sick Reflections by Fr. John Watkins

View or Download Here

Thursday 28th 17.00 Remembrance For Deceased Members
during the past year

Thursday 28th 21.00 Torchlight Procession Reflection by Fr Dominic
Assuahene on the Joyful
Mysteries
View Here

Friday 29th 12.00 Closing Liturgy Farewell, thanks and message
of hope for all our members
until we can all be together
again in 2021.
Fr Richard Andrew

ST. MICHAEL'S STUDENT VIDEOS

Click below to view

VIDEO 1
IMAGES OF LOURDES 2020
PRAYERS SAID AND CANDLES LIT THIS WEEK FOR THE INTENTIONS OF OUR VIRTUAL PILGRIMAGE MAY 2020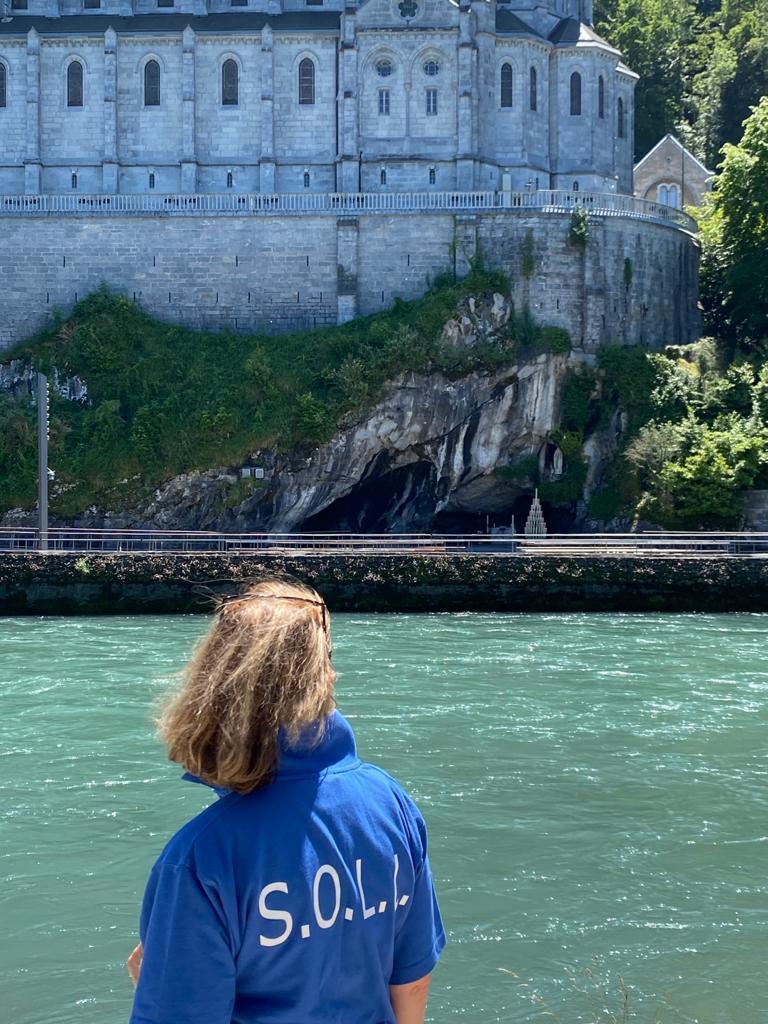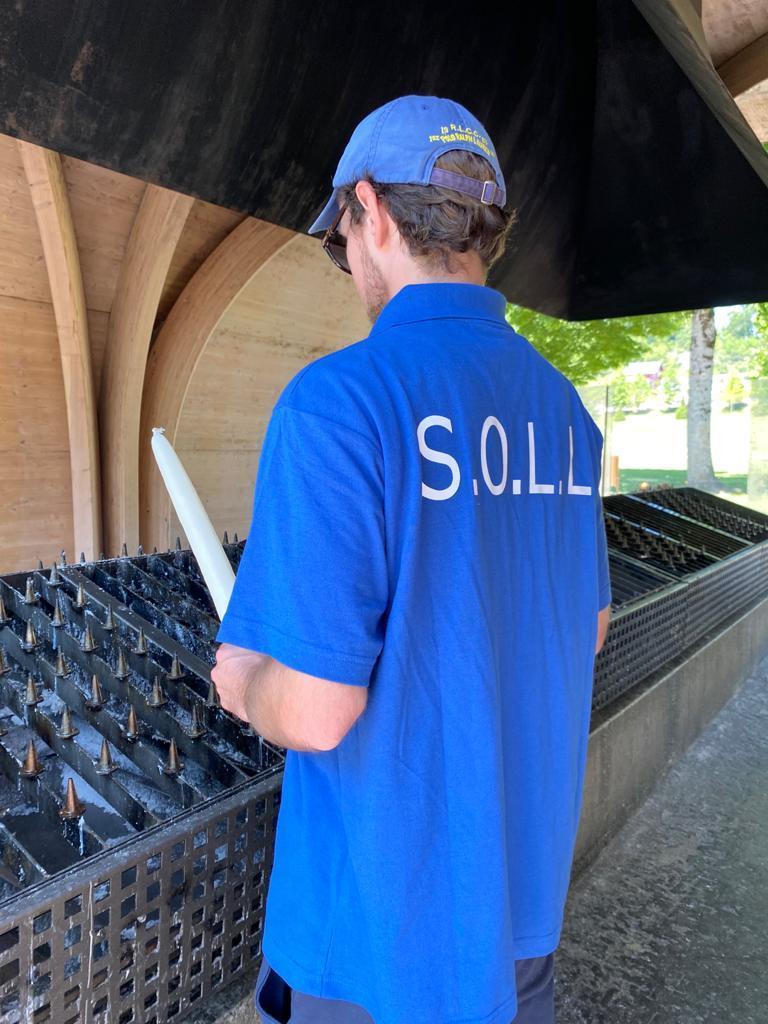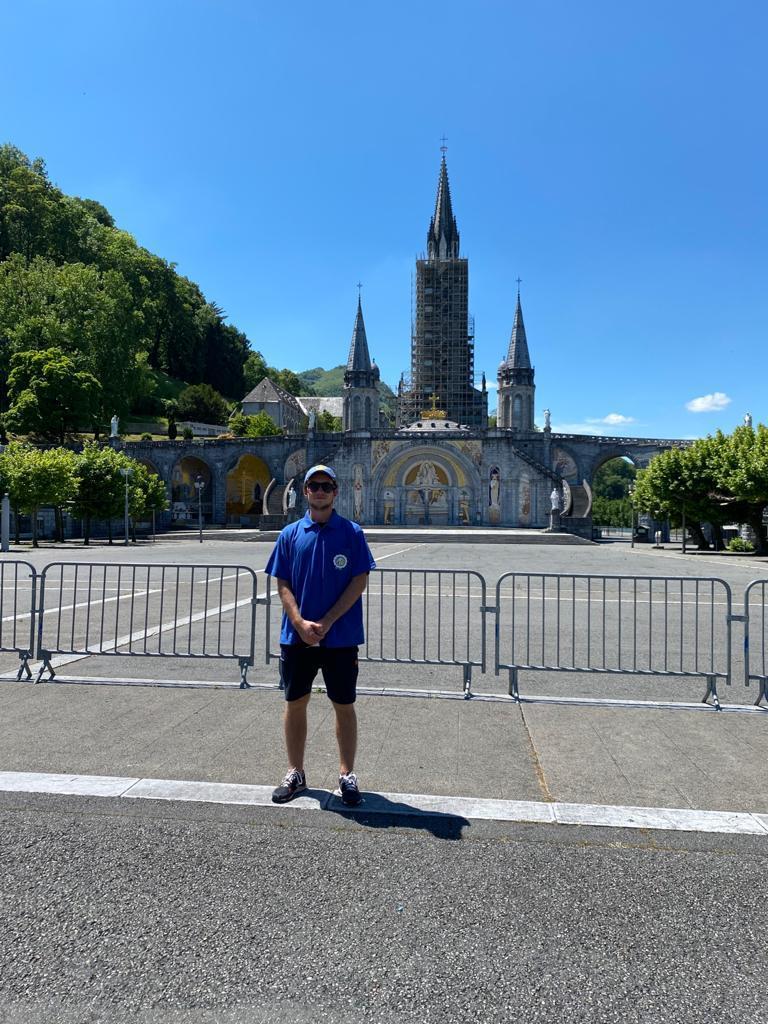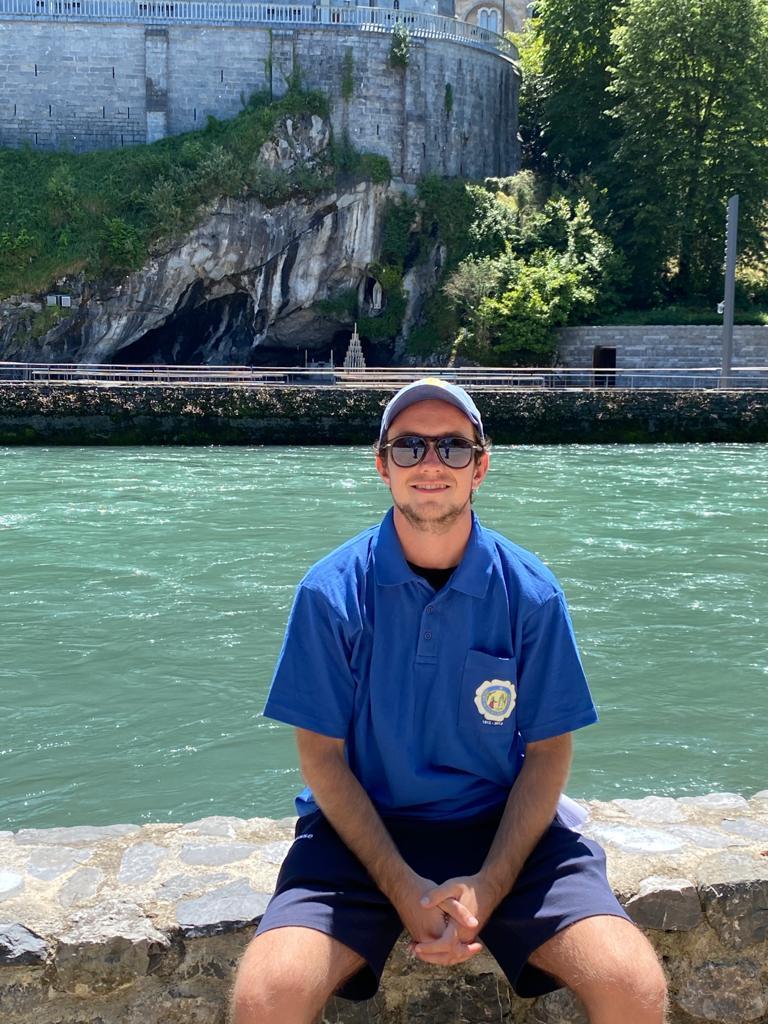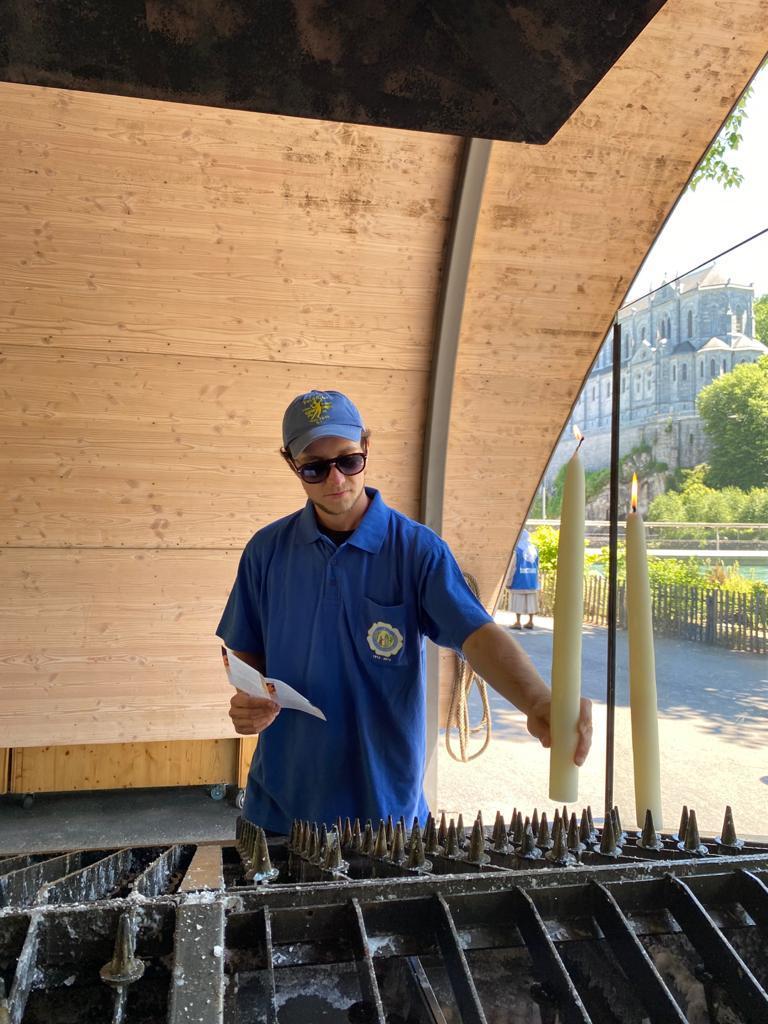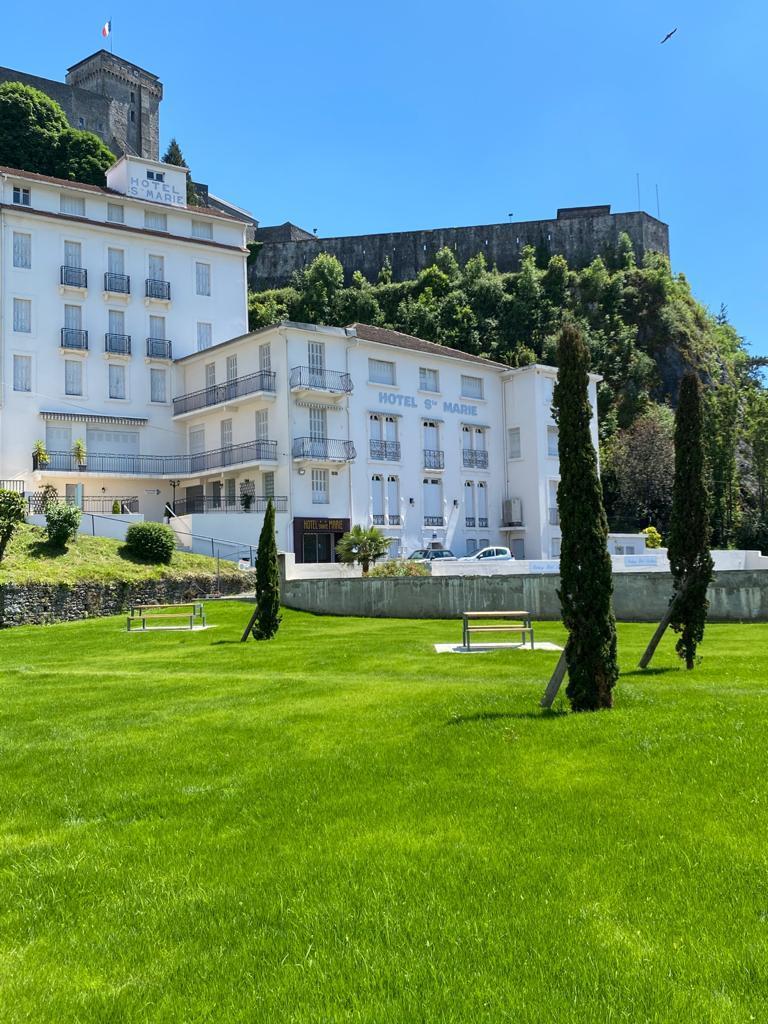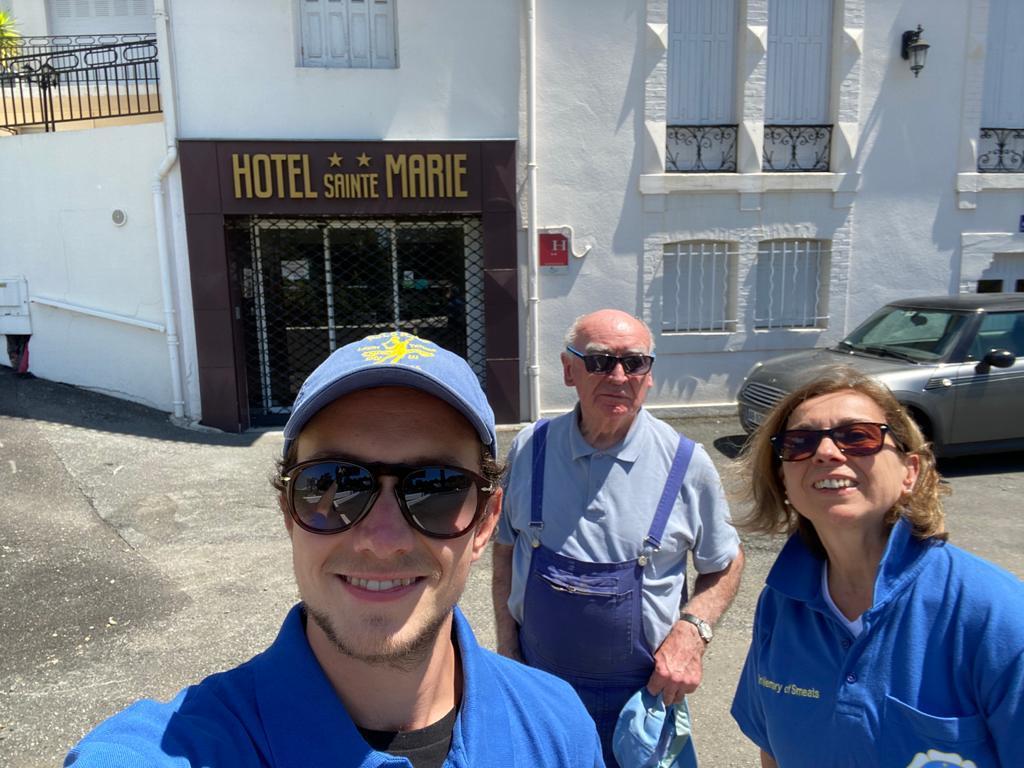 with thanks to Christine & Family
A Message from Dave Farrow
SOLL's Virtual Pilgrimage is now complete.
It will remain on-line at www.soll-lourdes.co.uk/soll-virtual-pilgrimage-2020
There are reflections from the priests who intended to join us this year for each of the days from Sunday through to Friday commencing with Archbishop Kevin.
It also includes celebratory pieces and photos for this and previous years.
This has been a team effort: Thank you, to Chris Howell for his inspired idea and encouragement and to Maree Anderson who turned the concept into a framework – and also fleshed it out with detail. Thanks to Archbishop Kevin for commending and introducing our virtual week. To Fr Dennis, Fr Terkura, Fr John, Fr Dominic and Fr Richard for preparing and delivering their reflections using unfamiliar technology. To Vicky Irwin & Nick Edwards for pulling together, despite lockdown, videos of praise and song by the students, & to Ollie for sharing his personal testimony. To Ray Harrison for mailing, both electronically and by post, copies of the programme and novena. To those who delivered the content: Sacha Blanchard, Danny Murphy, John Perkins - for controlling the Zoom session, Brian McCarthy for his very proactive, multiple posts on Facebook, promoting the week, and John Michell for putting it all together so beautifully with such great thought, on the website.
A candle for our pilgrimage burns at the Grotto.
I hope there will never be another virtual pilgrimage: for the Society will be going to Lourdes.
Always.
If you join us, it will.
Nick Edwards wrote: A pilgrimage is a journey to a sacred space, an act of religious devotion. Our annual pilgrimage to Lourdes in May is a long and complicated one. However you get there, either by train, plane or coach, the journey is always tiring and despite the best laid plans never easy.
Like me I am sure you were bitterly disappointed that the journey to Lourdes could not take place. Some were due to journey on pilgrimage for the very first time. They do not necessarily know what it is they have missed out on. Those who have been before - be they assisted pilgrims, members of the Society, praying pilgrims, the Massabielle group, or staff and some older students from our two schools - have a much better idea of what the Lourdes experience means and what they likely missed out on.
I often tell the students that every pilgrimage is different. However I didn't think for one minute that the difference could look like this. A virtual reality pilgrimage. I am sure you have been reliving memories this week of pilgrimages past whilst following events online, and missing the daily routine that quickly becomes established in Lourdes. The bonds that are made, the precious time at the Grotto, the spectacle of the torchlight procession, the beauty of St Sauvin and Cite St Pierre, seeing the young and old/sick bond so naturally, an ice cream in a cafe - the list could go on.
Thank you to everyone who contributed to the Virtual Pilgrimage of 2020. The journey to my laptop was far easier, though admittedly less fun. It was a tremendous effort on the part of many people in the Society to help keep Lourdes in our lives at this challenging time. But I know behind the scenes a huge amount of time was required to make the short journey to my laptop a meaningful experience. Thanks to the clergy who contributed wise words and the students who provided some entertainment.
See you all next year where I hope we ALL go in great number - blue, yellow, green. Lourdes and "social distancing" or "isolation" are simply not possible words that sit easy with anyone anywhere. Lourdes is no exception. Let us ask Mary to "shield" us all during this time to allow for a safe journey back to this very special place when restrictions permit. And the ice cream is not quite the same here.
A journey that still was.
IMAGES FROM OUR VIRTUAL PILGRIMAGE 2020