Sadly, our Virtual Pilgrimage has ended.
We hope you enjoyed all the films and masses throughout the week. We would like to thank everyone who participated and contributed: Archbishop Kevin who led, opened and closed our Pilgrimage week; the priests who gave us such wonderful services and evening prayers; the Assisted Pilgrims, helpers and nurses who all gave of their time to make our celebration so special; but particularly we would like to thank the Virtual Pilgrimage Team led by Sacha Blanchard who have worked so hard to bring everything together.
We will be keeping this page live for the time being so you can revisit anytime you wish.
See you in Lourdes next year!
SOLL's Virtual Pilgrimage is now complete.
It will remain on-line at www.soll-lourdes.co.uk/soll-virtual-pilgrimage-2020
There are reflections from the priests who intended to join us this year for each of the days from Sunday through to Friday commencing with Archbishop Kevin.
It also includes celebratory pieces and photos for this and previous years.
This has been a team effort: Thank you, to Chris Howell for his inspired idea and encouragement and to Maree Anderson who turned the concept into a framework – and also fleshed it out with detail. Thanks to Archbishop Kevin for commending and introducing our virtual week. To Fr Dennis, Fr Terkura, Fr John, Fr Dominic and Fr Richard for preparing and delivering their reflections using unfamiliar technology. To Vicky Irwin & Nick Edwards for pulling together, despite lockdown, videos of praise and song by the students, & to Ollie for sharing his personal testimony. To Ray Harrison for mailing, both electronically and by post, copies of the programme and novena. To those who delivered the content: Sacha Blanchard, Danny Murphy, John Perkins - for controlling the Zoom session, Brian McCarthy for his very proactive, multiple posts on Facebook, promoting the week, and John Michell for putting it all together so beautifully with such great thought, on the website.
A candle for our pilgrimage burns at the Grotto.
I hope there will never be another virtual pilgrimage: for the Society will be going to Lourdes.
Always.
If you join us, it will.
Nick Edwards wrote: A pilgrimage is a journey to a sacred space, an act of religious devotion. Our annual pilgrimage to Lourdes in May is a long and complicated one. However you get there, either by train, plane or coach, the journey is always tiring and despite the best laid plans never easy.
Like me I am sure you were bitterly disappointed that the journey to Lourdes could not take place. Some were due to journey on pilgrimage for the very first time. They do not necessarily know what it is they have missed out on. Those who have been before - be they assisted pilgrims, members of the Society, praying pilgrims, the Massabielle group, or staff and some older students from our two schools - have a much better idea of what the Lourdes experience means and what they likely missed out on.
I often tell the students that every pilgrimage is different. However I didn't think for one minute that the difference could look like this. A virtual reality pilgrimage. I am sure you have been reliving memories this week of pilgrimages past whilst following events online, and missing the daily routine that quickly becomes established in Lourdes. The bonds that are made, the precious time at the Grotto, the spectacle of the torchlight procession, the beauty of St Sauvin and Cite St Pierre, seeing the young and old/sick bond so naturally, an ice cream in a cafe - the list could go on.
Thank you to everyone who contributed to the Virtual Pilgrimage of 2020. The journey to my laptop was far easier, though admittedly less fun. It was a tremendous effort on the part of many people in the Society to help keep Lourdes in our lives at this challenging time. But I know behind the scenes a huge amount of time was required to make the short journey to my laptop a meaningful experience. Thanks to the clergy who contributed wise words and the students who provided some entertainment.
See you all next year where I hope we ALL go in great number - blue, yellow, green. Lourdes and "social distancing" or "isolation" are simply not possible words that sit easy with anyone anywhere. Lourdes is no exception. Let us ask Mary to "shield" us all during this time to allow for a safe journey back to this very special place when restrictions permit. And the ice cream is not quite the same here.
A journey that still was.

The Rosary from Lourdes - 2pm
Closing Mass Thursday 3rd June, 2021
____________________________________________________________________________________
Remembering the Cathedral in the Trees - Mass from OLOL Haworth

The Rosary from Lourdes - 2pm
Evening Prayers from Deacon Andrew Goodall, Ealing
______________________________________________________________________________
Remembering the Eucharistic Procession - Father John McCay
Water Service - Father Jim Duffy
Rosary from the Grotto at Lourdes 1st June, 2021 - 2.00pm
Evening Prayers - Father Anthony Paris
_________________________________________________________________________________
Stations of the Cross with Cardinal Vincent Nichols
Rosary from the Grotto at Lourdes 31st May, 2021 - 2.00pm
What Lourdes means to me - a short film
Evening Prayers with Father John McCay
_________________________________________________________________________________
WELCOME TO DAY 2 OF OUR VIRTUAL PILGRIMAGE 2021
SOLL Virtual Pilgrimage Programme (Download the full programme schedule here)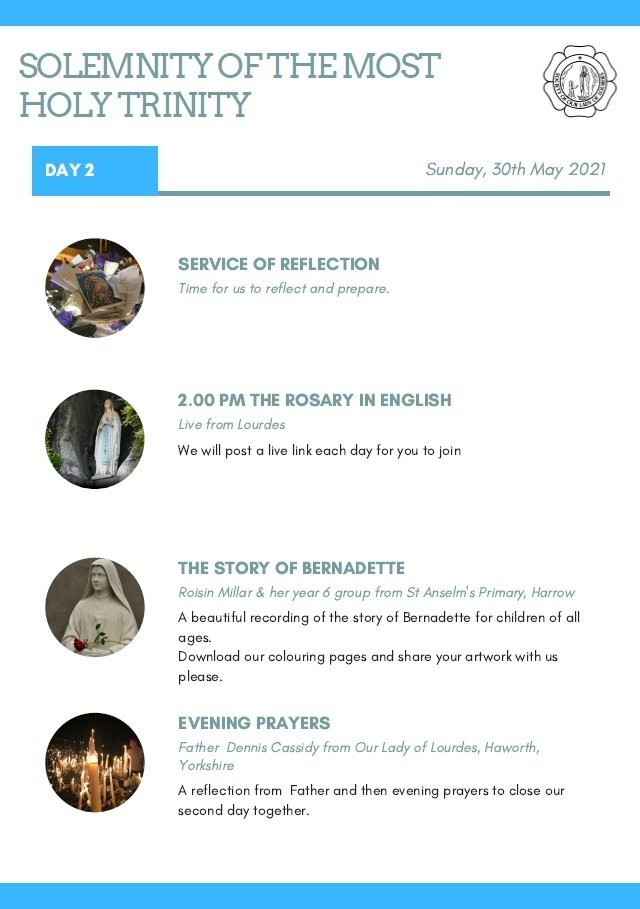 Rosary from the Grotto at Lourdes 30th May, 2021 - 2.00pm
The Story of Bernadette as told by the children of St. Anselm's
Catholic Primary School
Evening Prayers from Leeds
__________________________________________
WELCOME TO DAY 1 OF OUR VIRTUAL PILGRIMAGE 2021
SOLL Virtual Pilgrimage Programme (Download the programme schedule here)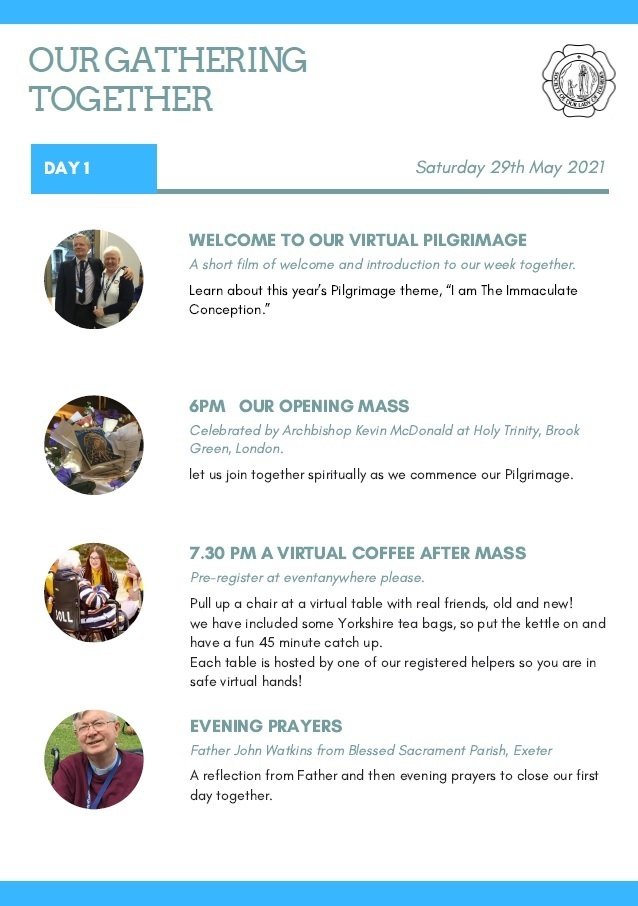 A short film of welcome and introduction to our Virtual Pilgrimage Week
Please join us after mass at 7.30pm for our first Virtual Coffee Meeting on our new Event Platform:
Evening Prayers with Father John Watkins