It is with great sadness that we announce the death of Bishop Christopher, Bishop Emeritus of Plymouth diocese.
Canon Paul Cummins, Plymouth Diocesan Administrator said: "Bishop Christopher was a faithful servant of the Lord and of the Church. He was an inspiration and a friend".
Please pray for the respose of his soul and for the comfort and consolation of his many family and friends.
Eternal rest grant unto him, O Lord, and let perpetual light shine upon him. May he rest in peace. Amen.
JOHN ROBERT AFFLECK
John Affleck married Hilary in 1968 and together they were the proud parents of four daughters. John took early retirement and this allowed him and Hilary to go travelling. They started coming on pilgrimage with the Society of Our Lady of Lourdes and each was awarded a silver medal after five years' service. John also joined the Hospitalité of Our Lady of Lourdes and returned to Lourdes in September for a week to work in the Sanctuary.
John's health deteriorated and by 2018 their golden wedding anniversary was showing signs of weakness. In February John suffered a significant stroke from which he never really recovered. He was unable to walk or, indeed, stand again.
He died peacefully on 11th October, 2022 after having been anointed.
The Requiem Mass of John Robert Affleck takes place at 15.00 hours on Monday 31st October 2022 at the Catholic Church of St Gregory the Great, Swarcliffe Drive, Southwood Gate, Leeds LS14 5LB.
The committal will take place at the church so there will be no procession to the crematorium.
Provisionally a reception is being organised at the Leeds Irish Centre, York Rd, Leeds LS9 9NT with a hot meal being provided at 17.00 hours.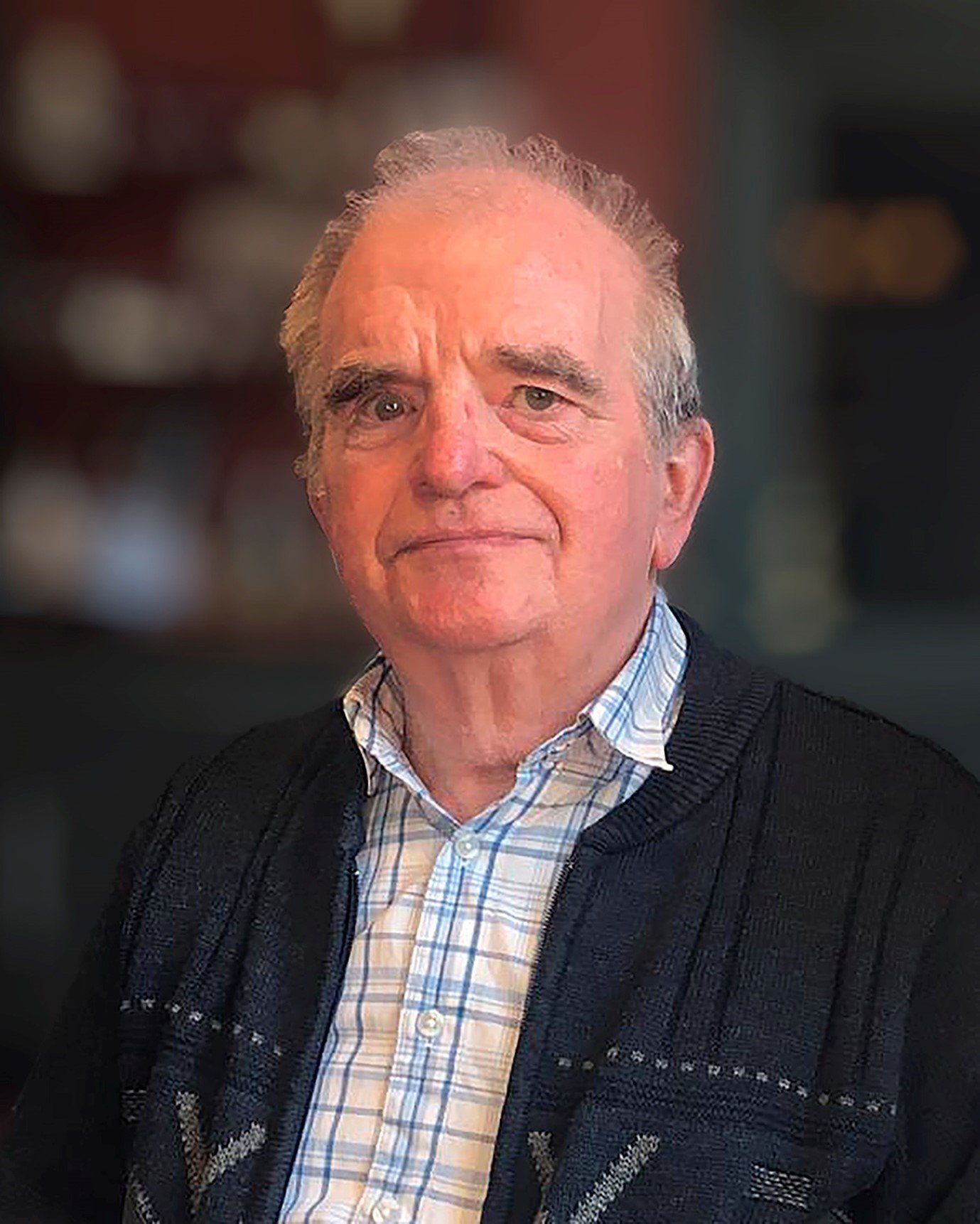 JULIANNA MUNNELLY
With great sadness, we announce the passing of Julianna Munnelly on 18th July 2022, aged 81. A loving Mother, Nanny, Sister and Aunty. She passed away peacefully with all her family around her, after battling a long illness with Alzheimer's. We will miss her forever and she will remain in our thoughts, our hearts and our memories.
ELIZABETH ANN O'HALLORAN
27/6/22
Elizabeth Ann O'Halloran (Known as Lily) from Wigan, Lancashire passed away peacefully on 27th June 2022 and will be sadly missed by her family and friends both here and in Ireland. In her memory the family are raising funds to support our society, as their father and Lily's late husband Thomas made the pilgrimage to Lourdes as an assisted pilgrim with the help from the Liverpool Diocese.
May you, O Lord, grant her everlasting rest.
JOHN PERKINS
21/3/22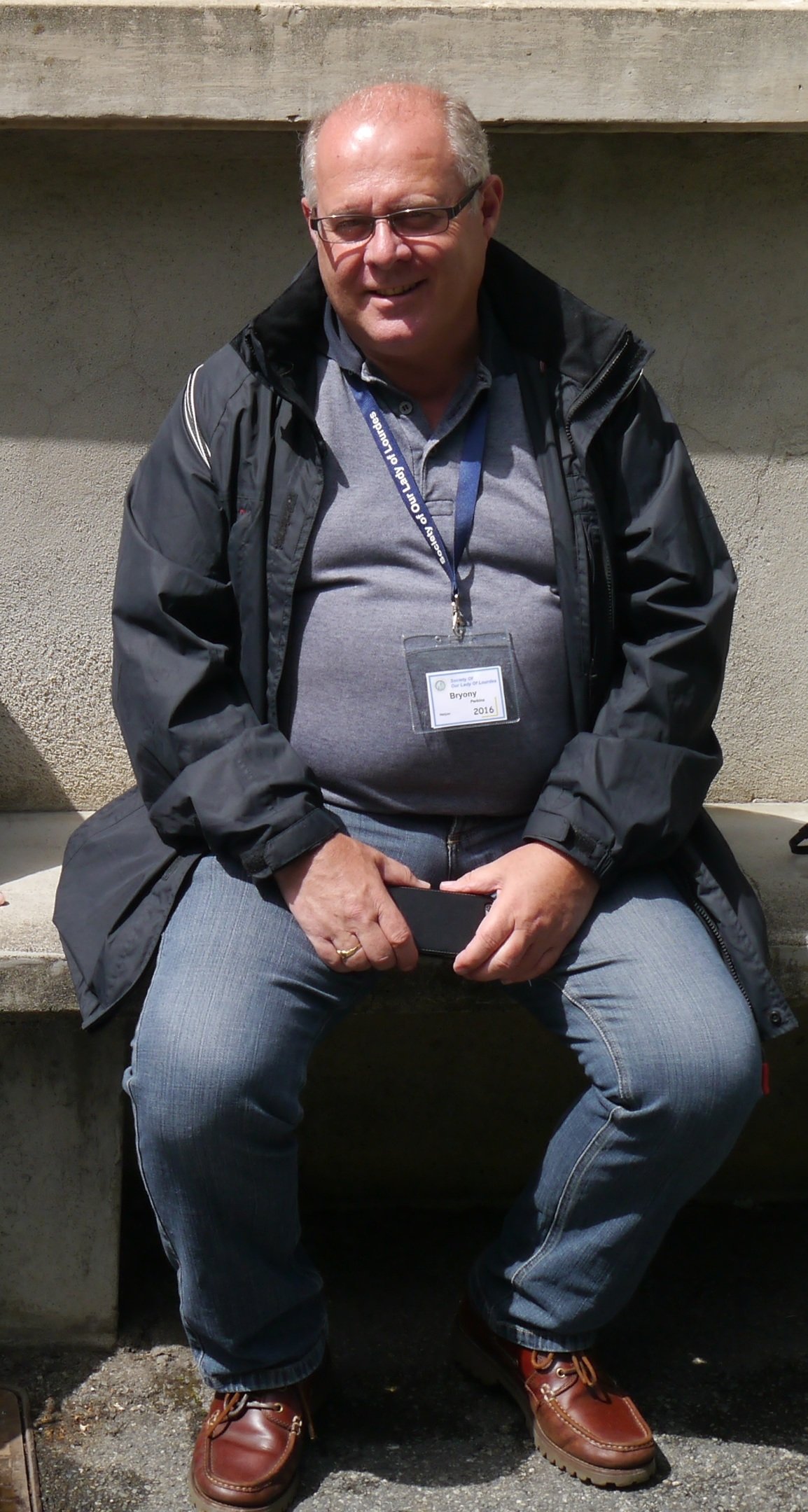 It is with infinite sadness that we must inform you of the passing of John Perkins.
John had cancer for a period of nine years, during which time he did not consider he had a battle with cancer. He felt strongly that he was given the period of time because of his faith and what he considered to be his own miracle of Lourdes.
It was his faith, positive attitude and strong mindset that gave him the inner strength to embrace life rather than any battle, an analogy he didn't like.
John was a long-serving member of the Society for many years and up until his death was the Hon. Treasurer of the Society.
John always showed friendship and kindness to all he met.
His passing will leave us lost, not just of an important colleague, but more importantly, a good and true friend whose help and guidance we will all greatly miss.
May he Rest in Peace and Rise in Glory in the care of Our Blessed Mother whom he served with such love and dedication over many years.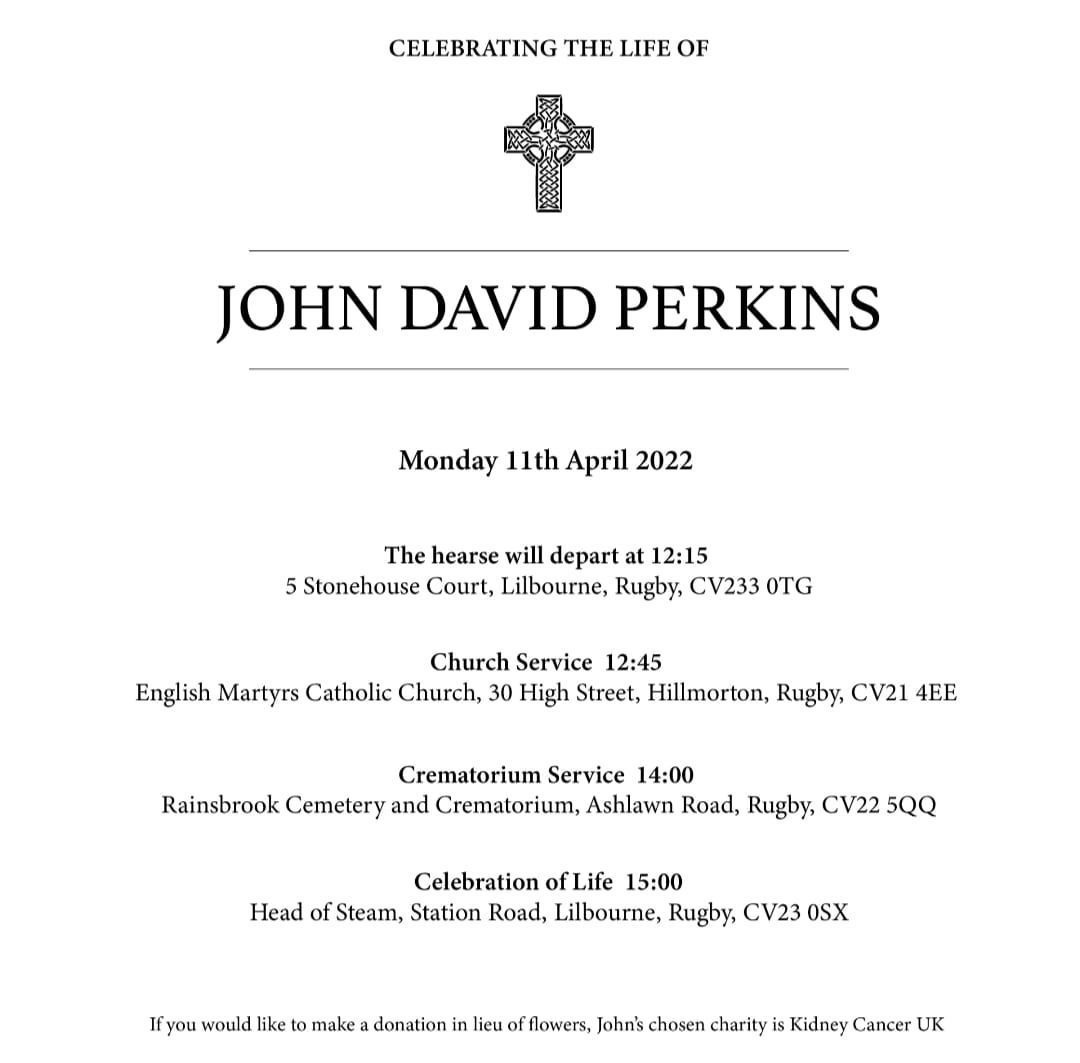 RAY HARRISON
1935 - 2021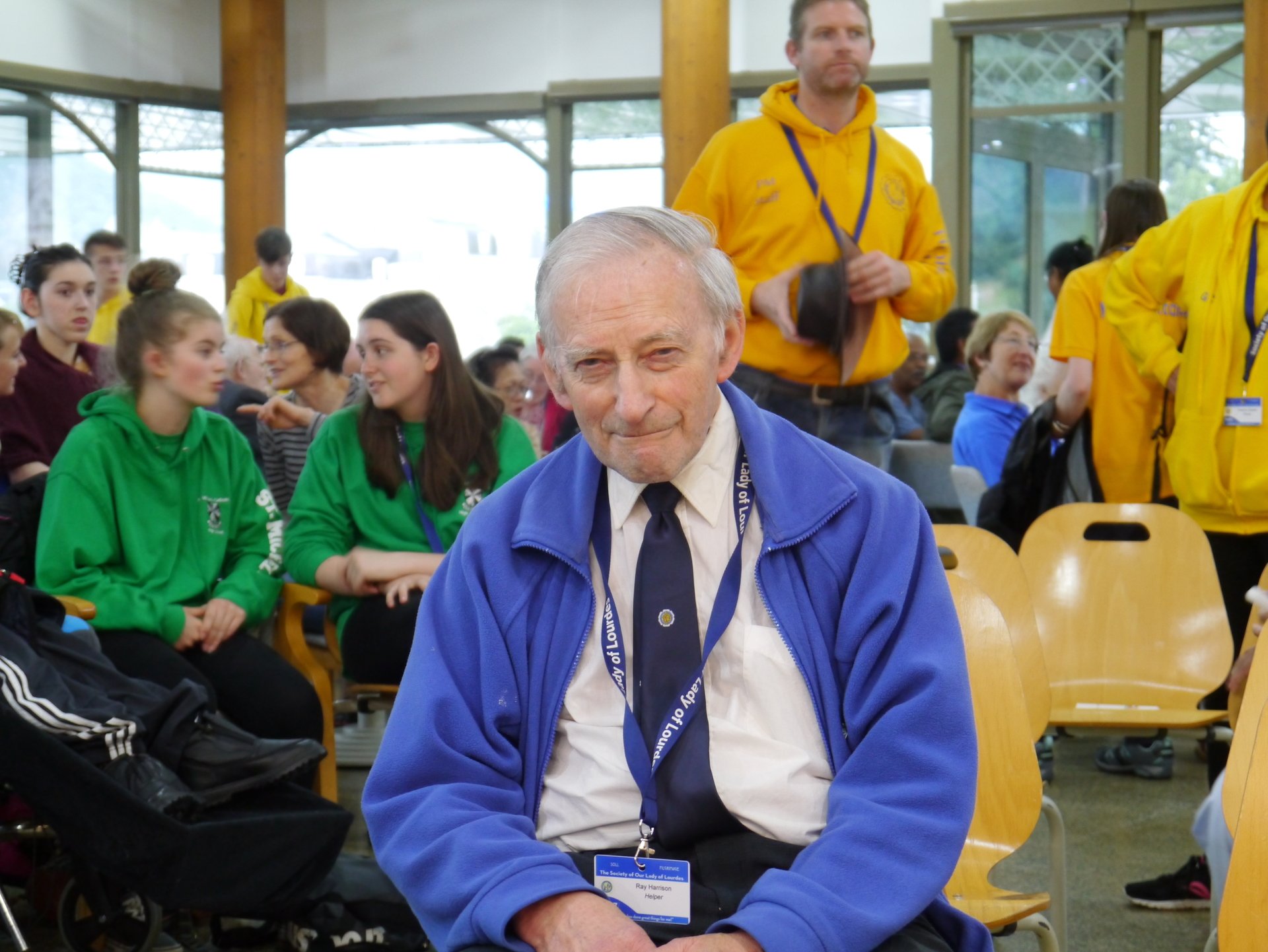 It is with deepest sadness that we have to tell you that our Ray, friend to all, had a heart attack and has gone to God on 5th April, 2021. Ray devoted his life to Our Lady and to our Society where he has been Office Manager since November 1989.
"I would be grateful if you would please convey my sincere sympathy to Mr Harrison's family and friends, and assure them of my prayers at this time of sadness. And, of course, I extend my sympathy to you, and all those who worked with him at the Society of Our Lady of Lourdes, over many years. May he rest in peace and rise in glory.
Yours very sincerely"
HE Cardinal Vincent Nichols
Archbishop of Westminster
Eulogy given by Dave Farrow, Chair of the Society, at Ray's funeral 26th April, 202:
I have been asked more than once in the past 2 weeks, "Who is going to replace Ray?" The answer of course is ……… No one can.
Ray joined us from another age, becoming a part of what was for most of its existence known as the English National Pilgrimage for the Sick. First in 1968 as a Brancardier, and for the past third of a century as our Office Manager proposed originally by Lady Helen Asquith, granddaughter of a Prime Minister who in reality lead the Society.
I have sometimes felt that Ray felt obligated to the memory of Lady Helen – and certain things would always be done the way she did them; this included his affection and care for the banner.
I brought the banner here today ……. rolled up. Ray would be appalled!
Ray had great love for Our Lady which he expressed in his devotion to the Society of Our Lady of Lourdes. He notably visited not just Lourdes but Walsingham and a shrine in Belgium. It seems that only in the last fifteen years did he stop cycling the 300 miles to Belgium because he didn't think his bike was up to the trip.
Ray's was the voice of the Society who explained and reassured the many who sought to join us. Tacitly we knew that Ray ran his own Social Services operation, stories of some of those he was kind to are now emerging such as the lady who occasionally popped by for her bus fare, a friendship and support for someone living long term in an airport hotel, and the home he provided for a man estranged from his family.
Ray helped so many we will never learn of. Sadly, he never helped himself and simply refused ever to go near a doctor.
Sometimes as the immovable date for the departure of the pilgrimage approached with much still to be done it was hard to encourage him to focus on what was becoming critical.
I once proposed that he only answered the phone between 11 and 2pm leaving messages otherwise to go to voicemail.
He assured me he would do so – but knew he wouldn't …….. and deep down, so did I!
Ray's words: "I'll just start a new list" …… were always ominous! Yet for all that Ray overlooked, there was so much more that he saw ~ and we didn't. He booked venues, sent out reminders of the Christian year and sought prayers for those of our number who needed them.
It was as he said, his life.
Archbishop Kevin McDonald who leads our pilgrimage, and who is saying a Mass for Ray commented that,
"I found him gentlemanly and kindly. I am also sure that he was a deeply spiritual man and that that fuelled his commitment to SOLL. There was certainly a single mindedness about him. May he rest in peace"
MARTIN SMEATON
1952 - 2009
The one and only Smeats
Smeats died this summer and left a gap that will never be filled. I was with him and his sister the day he was first told the words he had dreaded, but which he knew in his heart would be said.
It is hard to capture the essence of this man in a few paragraphs and I hope to do him justice. I met Smeats in 1979 in Lourdes when he joined SOLL for the first time and it was to be the beginning of a lifelong friendship. Over the next two decades we went to Lourdes three times each year with SOLL in May, the Nottingham Pilgrimage in July, and then en stage in September. Up to this year we were still going with SOLL and doing the stage. It was nearly always a pleasure to share with him, and certainly a pleasure to be with him. We had a similar sense of humour, similar views on most things and a love of Lourdes. We found the hotel Ste Marie in 1985 and established this as a base for all future Lourdes visits. Many of you will know Christine from the hotel; she was heartbroken to learn of Smeats' illness and kept in touch with me throughout.
Smeats was someone you couldn't dislike. He was approachable, warm, very generous and delighted in playing about and having a laugh. In the early days we would go to Nottingham to our friend John and spend a weekend of football, drinking and generally having a great time before heading south late Sunday evening.
The Lourdes family is vast and you all will have treasured memories and it is a measure of the man that they come easily. He was a little lost when he first took early retirement and seemed to struggle to get involved in something to keep him as busy but over time he got sorted and was in good form. He met Linda through Lourdes and as they grew closer he began to imagine a life not quite so alone. Smeats loved Linda and it changed his life. We talked over a beer in Lourdes in May (as we often did) and he talked about his new life. The tragedy of course was of how little he had of it.
When Smeats discovered how ill he was he wanted to be quick off the blocks, saw recovery as inevitable and was hopeful. This hope was to be dashed over the few weeks ahead and, as we know, his time with us was limited. We talked lots over those weeks, got angry about his fate, laughed and reflected on a life well spent and moments which are to painful to put in words. Smeats' funeral Mass was on 3 September and the Lourdes family was overwhelmingly in evidence. I went to Lourdes next morning as we had planned to do and finally was able to sit at the Grotto and look back over a summer and the awful loss that has occurred, of the fact that God had called back one of the greatest. It was a day hard to forget, I saw Smeats in every place that we had walked, talked and drank. I stopped at a haunt of ours where the patron automatically set for two - waiting for Smeats to round the corner of the Gave, having no idea at this stage that he wouldn't be – or of how much I wished he would, too.
Smeats, old boy, you will remain always in our hearts; to know you was to love you, and I knew you very well.
"Grub"
Danny Murphy