View the latest Pilgrimage slideshow HERE
Donate to the Society on "Just Giving"

Simply CLICK HERE to make your payment.
News
THE ACCUEIL NOTRE DAME - IN THE HEART OF THE LOURDES SANCTUARY

The Accueil Notre-Dame allows sick and handicapped pilgrims to live their pilgrimage to Lourdes in the best conditions facing the Grotto.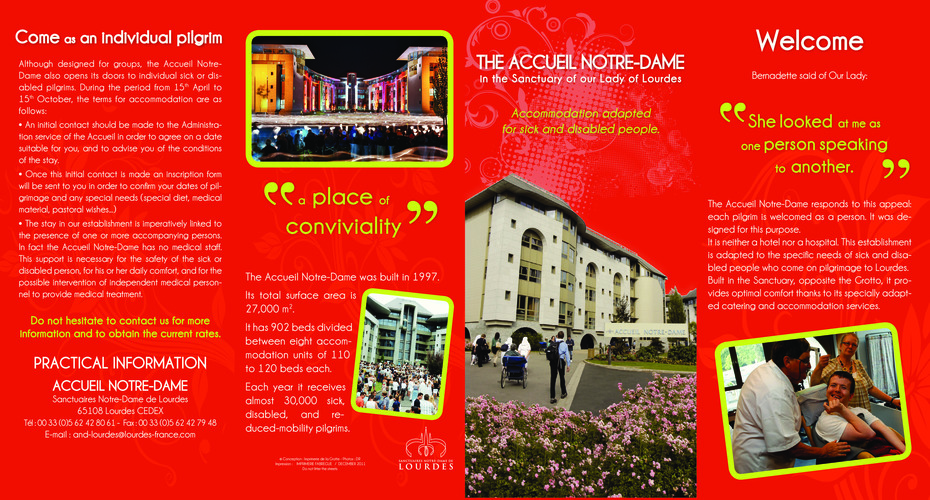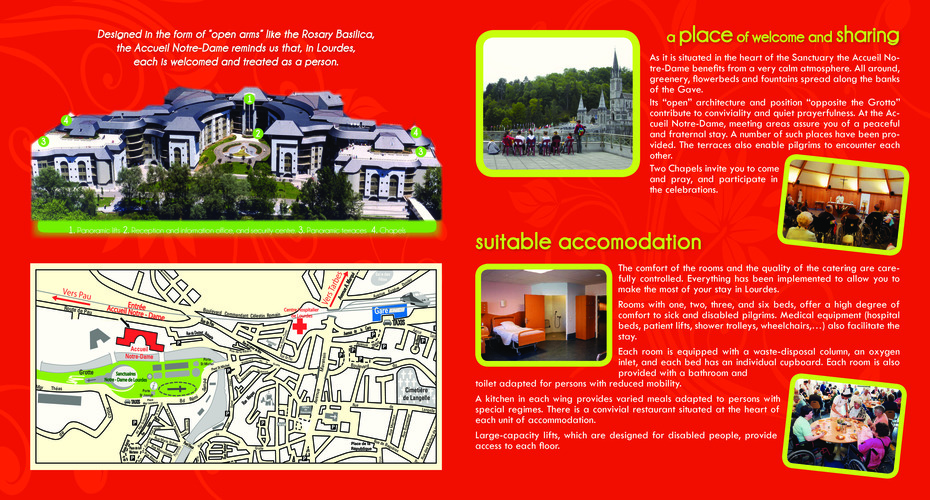 Chairman's Report - AGM 2018

AGM 2018 - Chairman
2018 marked another successful pilgrimage. Sounds simple, but one year ago our society faced its greatest challenge since the dioceses of Westminster and Brentwood separated into their own pilgrimages.
The concerns were threefold.
Firstly, most will know that 2018 was the first year that we were without St Bedes's School, Bradford. St Bede's has much history: it was founded by Fr Arthur Hinsley who was its first Headmaster and who became the fifth Cardinal Archbishop of England in modern times and is buried in Westminster Cathedral where a panel summarizes his life – including the tribulations that lead him south.
St Bede's School merged several years ago with St Joseph's. The latter school has long participated in the Leeds diocesan pilgrimage. SOLL has known for a least five years that a decision as to whether the combined school joined Leeds or SOLL would have to be made. It was freely acknowledged that on cost, flexibility, maximum utilization of the students ("they need to be kept busy") and ease of doing business SOLL were clear winners. However they are now the largest Catholic school in Great Britain and subject to "expectations" that they should join their diocese.
SOLL does not intend to lose contact with the school and we hope that after several years, in light of experience, a review of the decision will occur.
The second concern is that Exeter has historically been a challenging airport to arrange flights from.
Administratively it is one of the most expensive airports to operate out of, and aviation fuel must be trucked in (the London airports are all linked by pipelines to refineries) - SOLL has had to subsidise the flight on occasion in the past. The largest operator out of Exeter, Flybe, has now put itself up for sale and it is highly probable that aircraft will have to be positioned empty to there.
Within a week of returning home from our 2017 pilgrimage, a letter was received informing SOLL that the Plymouth Diocesan pilgrimage would henceforth be travelling in August. Neither they, nor we, have sufficient numbers to fill an aircraft hence we would be unable to mount any operation out of Exeter.
A new independent group was formed within the West Country ("DCDS" – an abbreviation of the counties concerned). They were promised a very large sum to get them started from an anonymous donor – which ultimately was not realised.
To operate the Exeter flight would require the lump sum from DCDS and £10k from SOLL. The gamble was that numbers would increase in subsequent years.
The choice was to support this new group who we could share our aircraft with, or cease operation from Exeter: SOLL would lose our West Country group.
The third challenge was that the Massabielle Group who took 74 pilgrims to Lourdes in 2017 decided on cost and convenience grounds to go to Knock instead of Lourdes in 2018.
SOLL worked with and was greatly supported by friends in Keighley who recognised that many still wanted to travel to Lourdes and in particular "go with the kids" from Holy Family School. Leverage with two hotels succeeded in reducing the rates for the students, a block booking with Ryanair and financial assistance from SOLL enabled a viable alternative. I must stress this was only possible thanks to the commercial astuteness of people in SOLL namely Steve Kelly, Danny Murphy & Phil Unwin – it is no small task co-ordinating the needs of 40 + people at any time, and courageous when doing it for the first time.

Taking no action – acceptance of where we were, would have resulted in a net fall in numbers of pilgrims: down by 143 from the 2017 total of 411 – a 35% decline.
With less than a month before the pilgrimage, the position worsened when both SOLL and Tangney Tours received the bombshell that the lump sum from the anonymous donor to DCDS had fallen through.
Either SOLL made up the difference – which would have meant a subsidy of nearly £1,000/pilgrim to enable the Exeter flight to operate, or the operation was cancelled and the sum committed by SOLL written off.
The Gordian Knot was cut by the Society and TT both offering to loan a proportion of the missing donation from DCDS. Terms for repayment to SOLL are measured against increases in pilgrims joining us from the West Country.
I must record the support, and willingness to help from Tangney Tours. This period was time consuming and stressful for all parties and of zero commercial benefit to TT yet they agreed and co-operated enabling the Exeter operation to continue.
The DCDS group are now incorporated as a part of the SOLL family in the same way that the Massabielle Group are.
This increases our reach, and our numbers, in the West Country.
In summary some very hard work, additional funding and some bright ideas and dedication by a number of people which includes Sacha Blanchard and Mike Devlin drove our numbers up - to 343. Incredibly though our costs increased significantly in 2018 … they were more than offset by a substantial legacy.
I have named many other people who helped, during the Closing Mass in the Rosary Basilica. I intend to do so again next year: decline and cuts are easy to accomplish - anyone can do it. Building and growing is the hard bit – so my sincere thanks to all concerned.
SOLL has long been dependant on and grateful for the enormous work of the office.
This work needs to be reduced and shared and much has been done to enable office functions to be undertaken remotely. With the effort already completed by our Secretary, this will reduce and hopefully simplify the accuracy and ease of collating the names of those joining the pilgrimage. It will also provide contingency for the first time.
For 2019, flights from our three departure points have been even harder to secure and the availability of aircraft for our operations generally is reduced by recent bankruptcies, and ongoing concerns over the profitability of survivors: Warren Buffet was quoted as saying that "If a farsighted capitalist had been present at Kitty Hawk, he would have done his successors a huge favour by shooting Orville down!".
That said, the 2019 pilgrimage is looking very promising:
We have been appointed as the designated charity of the Catenians in the south west, there is increasing schools interest from that part of the world, and both Massabielle and DCDS who forecast increased numbers in 2019.
I will conclude by recording our society's and my personal thank you to those standing down from the Council, Billie Clinton and Catherine Casey for their time – both very longstanding on both Council and Pilgrimage Committee where their contribution has been immense.
I would also like to thank Allan Cook for researching and creating the SOLL GDPR policy; a dry subject but a necessary one which Allan has undertaken with his customary diligence. And finally, I must record that Alan Warren has stood down after many years as MC. His ability directing our Mass celebrations in plain sight without appearing to do so was testament to his efficiency and commitment.
Dave Farrow, Chairman
"

Want to get young people involved in the Church? Take them on a pilgrimage

"
The SOLL Centenary Club raises money for our Sick Pilgrims - your support would be greatly appreciated:
If you are not yet a member of the Centenary Club and want to be then please contact the Society office and we will send you forms so that you can be in next month's draw.
It's just £5 per month and the more people that join the bigger the prizes will become!
Please note that half the money raised each month goes towards Society funds.
Thank you for your support ...more details
------------------------------------------------------------------------------------------------------------------------
Your Prayers (last update 20.09.2019)
Please remember in your prayers those who are sick especially Geraldine Taylor, Alan & Mary Daws, Patrick Cobbe, Michael Griffin, Mary Lay, Lourda O'Leary, Annette Hamill, Mary McCarthy, Fieke van den Berg, Bridie Murphy, Hazel Gray, Trevor Lee-Yow(Oct.2018), Bill Tomlinson(Nov.2018), Jade Prisk(July 2019).
We ask Our Lady to join her prayers to ours for their intentions and for the repose of the souls of those Society Friends who have died over the past few months.
Especially we pray for: Emma Palmer(September 2018), Ann McDonagh(01/09/18), Jo Barman(15/09/18), Joe Nagle(4/11/18), Ronnie Mitchell(Nov.2018),
Elizabeth MacGreevy(17/12/18), Eileen Elliot(28/12/18), Fr.Eugene Nee(03/01/19), Miranda Villiers(30/03/19), Pam Johnson(31/07/19) and Terry Marsh,

May their souls and the souls of all the faithful departed rest in peace and may our Blessed Lady, Consoler of the Afflicted, pray for those who mourn.
Monthly Masses are offered for those on the list, also weekly Masses are offered for ALL deceased Society Members including many who die without the office being notified.
Society Life Friend, Wigberto de Souza, has sent us the following requests from Pope Francis:
Weep not for what you have lost, fight for what you have.
Weep not for what is dead, fight for what was born in you.
Weep not for the one who abandoned you, fight for who is with you.
Weep not for those who hate you, fight for those who want you.
Weep not for your past, fight for your present struggle.
Weep not for your suffering, fight for your happiness.
With things that are happening to us,
we begin to learn that nothing is impossible to solve,
just move forward.
THE HOLY FATHER MAKES A REQUEST FOR PRAYERS THAT GOD PROTECTS HIM AND GIVES HIM FORCES TO MEET THIS DIFFICULT TASK . . . . SO BE IT! SO BE IT, LORD JESUS!!!
Our Lady of Lourdes pray for us
St Bernadette pray for us

Volunteer Skills and Information Update Questionnaire - ...more details
(Please download, complete and return to the Society Office)

Download New Helpers' Presentation by Bob Tomlin (RIP) - HERE

Download a copy of the Stations of the Cross - HERE