SOLL's Virtual Pilgrimage is now complete.
It will remain on-line at www.soll-lourdes.co.uk/soll-virtual-pilgrimage-2020
There are reflections from the priests who intended to join us this year for each of the days from Sunday through to Friday commencing with Archbishop Kevin.
It also includes celebratory pieces and photos for this and previous years.
This has been a team effort: Thank you, to Chris Howell for his inspired idea and encouragement and to Maree Anderson who turned the concept into a framework – and also fleshed it out with detail. Thanks to Archbishop Kevin for commending and introducing our virtual week. To Fr Dennis, Fr Terkura, Fr John, Fr Dominic and Fr Richard for preparing and delivering their reflections using unfamiliar technology. To Vicky Irwin & Nick Edwards for pulling together, despite lockdown, videos of praise and song by the students, & to Ollie for sharing his personal testimony. To Ray Harrison for mailing, both electronically and by post, copies of the programme and novena. To those who delivered the content: Sacha Blanchard, Danny Murphy, John Perkins - for controlling the Zoom session, Brian McCarthy for his very proactive, multiple posts on Facebook, promoting the week, and John Michell for putting it all together so beautifully with such great thought, on the website.
A candle for our pilgrimage burns at the Grotto.
I hope there will never be another virtual pilgrimage: for the Society will be going to Lourdes.
Always.
If you join us, it will.
Nick Edwards wrote: A pilgrimage is a journey to a sacred space, an act of religious devotion. Our annual pilgrimage to Lourdes in May is a long and complicated one. However you get there, either by train, plane or coach, the journey is always tiring and despite the best laid plans never easy.
Like me I am sure you were bitterly disappointed that the journey to Lourdes could not take place. Some were due to journey on pilgrimage for the very first time. They do not necessarily know what it is they have missed out on. Those who have been before - be they assisted pilgrims, members of the Society, praying pilgrims, the Massabielle group, or staff and some older students from our two schools - have a much better idea of what the Lourdes experience means and what they likely missed out on.
I often tell the students that every pilgrimage is different. However I didn't think for one minute that the difference could look like this. A virtual reality pilgrimage. I am sure you have been reliving memories this week of pilgrimages past whilst following events online, and missing the daily routine that quickly becomes established in Lourdes. The bonds that are made, the precious time at the Grotto, the spectacle of the torchlight procession, the beauty of St Sauvin and Cite St Pierre, seeing the young and old/sick bond so naturally, an ice cream in a cafe - the list could go on.
Thank you to everyone who contributed to the Virtual Pilgrimage of 2020. The journey to my laptop was far easier, though admittedly less fun. It was a tremendous effort on the part of many people in the Society to help keep Lourdes in our lives at this challenging time. But I know behind the scenes a huge amount of time was required to make the short journey to my laptop a meaningful experience. Thanks to the clergy who contributed wise words and the students who provided some entertainment.
See you all next year where I hope we ALL go in great number - blue, yellow, green. Lourdes and "social distancing" or "isolation" are simply not possible words that sit easy with anyone anywhere. Lourdes is no exception. Let us ask Mary to "shield" us all during this time to allow for a safe journey back to this very special place when restrictions permit. And the ice cream is not quite the same here.
A journey that still was.
View the last Pilgrimage slideshow HERE
Donate to the Society on "Just Giving"

Simply CLICK HERE to make your payment.
News
Important Update
Dear Pilgrim, Helper, Priest, Teacher, Student, Doctor, Carer, Nurse,
Due to the unprecedented effects in our daily lives of the Coronavirus, an emergency meeting was held at SOLL, Hayes, to discuss our Lourdes 2020 pilgrimage in May.
The discussions related to ensuring the health and wellbeing of all involved in the pilgrimage.
It is with regret that we have to announce our reluctant decision to CANCEL the pilgrimage this year.
Much work now needs to be done to unwind all the preparations.
We will be in touch regarding future events on our schedule and will continue to communicate Lourdes news to you.
Please pray for each and everyone and dedicate your prayers to Our Lady to continue the spirit of Lourdes.
We will gather again, to go together, on pilgrimage to Lourdes from 28th of May to 4th of June 2021
Our Lady of Lourdes, Pray for us,
Saint Bernadette, Pray for us.
The SOLL Pilgrimage Committee and SOLL Council
Dr F Lucille Mitchell, RIP
It is with personal sadness that we have to advise of the passing of Lucille Mitchell. Lu served the Society as both a pilgrimage doctor as well as handmaid and in latter years came as an assisted pilgrim. We thank her for her devotion to Our Lady and her service to the Society and our thoughts are with her children and grandchildren who continue her legacy in serving with the Society.
May perpetual light shine upon her and may she Rest in Peace, Amen.
Hazel Hayward, RIP
It is with great sadness that we have to advise of the passing of Hazel Hayward. Hazel was a lifelong member of the Society and served for many years as a Nurse with the pilgrimage, coming as an assisted pilgrim in later years. We are all so very grateful for her many years of service to Our Lady and she will be greatly missed. Our thoughts are with her niece, Sacha at this time.
May she rest in peace and rise in Glory.
Fundraising Variety Show:
Dedicated Carer Sonali de Silva's Variety Show last Saturday was a great success and much enjoyed by all who attended. Besides giving pleasure to all those present,
over
£1,000
was raised for the Society's Sick Pilgrim Fund. We thank Sonali very much for all the hard work she put into its staging and to all who contributed to its success.
Christmas/New Year Appeal:
Likewise with the Society's Christmas appeal which resulted in donations totalling an amazing
£4,378
, by far the best result ever for this particular fundraiser - our thanks to all who sent us their cash or cheque contribution.
On a very sad note, we give news of the death recently of John Villiers -just 11 months after that of his dear wife Miranda. John's funeral was in St Nicholas's Church, Blakeney at 2pm on March 9th. May they rest in peace.
THE ACCUEIL NOTRE DAME - IN THE HEART OF THE LOURDES SANCTUARY

The Accueil Notre-Dame allows sick and handicapped pilgrims to live their pilgrimage to Lourdes in the best conditions facing the Grotto.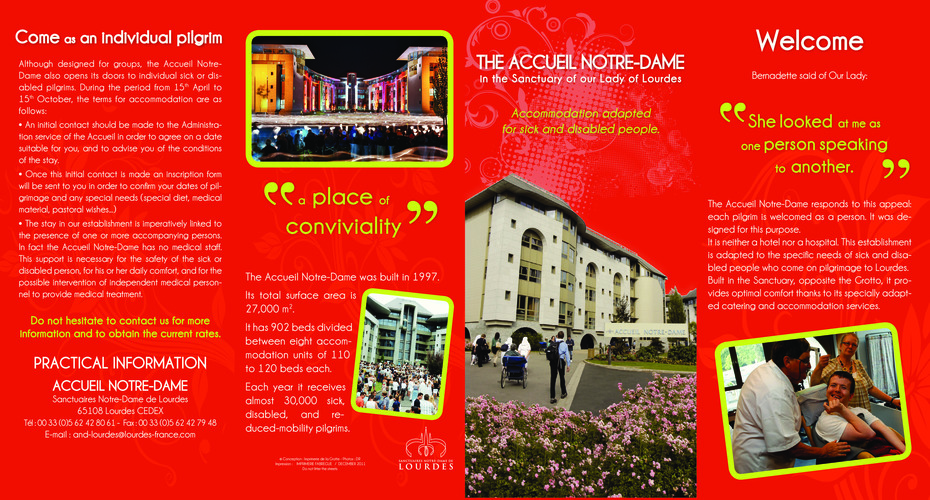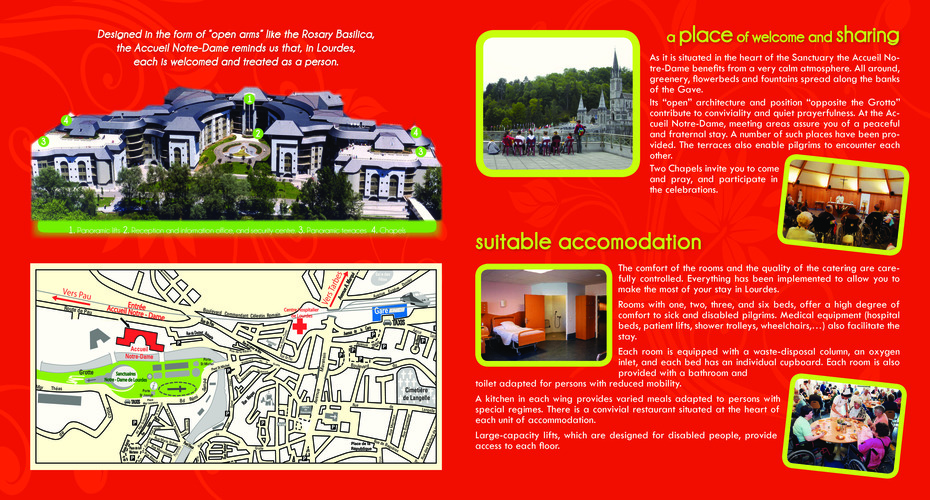 Chairman's Report - AGM 2019
MINUTES OF THE ANNUAL GENERAL MEETING
OF THE FRIENDS OF THE SOCIETY OF OUR LADY OF LOURDES
At Botwell House Hayes
ON SATURDAY 7TH DECEMBER 2019 AT 14:00hrs
There were ten Friends of the Society present.
The Chairman, Dave Farrow, welcomed all present and led the opening prayer.
Apologies were received from Lucy Wearing, Sacha Blanchard, Brian McCarthy, Gordon McIvor, Teresa Hussey, Paul Affleck, Paddy Phelan, Chris and Cora Howell, Sheelagh Gardner Thorpe and Mary Barnard.
Minutes of the previous Annual General Meeting, which had already been circulated, were approved without amendment.
Two nominations were received. No elections were therefore required for vacant positions.
The following have therefore joined the Council for three years.
John Perkins – Treasurer - unopposed
Steve Kelly - unopposed
Anne-Marie Mullins – although elected last year had on reflection declined to stand as a Trustee.
The Council is quorate and the Chairman proposed to co-opt Christine Kelly to the Council and Ray Harrison as a non-voting observer. This was approved by vote at the AGM and will be ratified at the next Council meeting.
Chairman's Report [The report is given verbatim below.]
At last year's AGM I said
"For 2019, flights from our three departure points have been even harder to secure and the availability of aircraft for our operations generally is reduced by recent bankruptcies, and ongoing concerns over the profitability of survivors: Warren Buffet was quoted as saying that 'If a farsighted capitalist had been present at Kitty Hawk, he would have done his successors a huge favour by shooting Orville down!'. That said, the 2019 pilgrimage is looking very promising: We have been appointed as the designated charity of the Catenians in the south west, there is increasing schools interest from that part of the world, and both Massabielle and DCDS forecast increased numbers in 2019."
What actually happened?
The forecast of further bankruptcies sadly did prove correct. There are only 2 carriers' now chartering aircraft.
The 2019 pilgrimage was indeed "promising" – it increased in size by 12%, – despite Brexit and the decline of Sterling.
The Massabielle group did increase in size. And the Catenians will continue to support the pilgrimage in 2020.
Exeter Airport has historically been a challenging airport to arrange flights from. The Plymouth Diocese (originally part of our pilgrimage) elected to travel in August so our numbers fall short of a full aircraft even with the DCDS group included.
We do our utmost to secure a flight from Exeter Airport but it becomes harder each year. Few airlines operate from there so we have to bear the full cost of flying empty aircraft from their base to Exeter meaning that to operate our return trip there are six flights, four being empty. The cost of fuel and operations at Exeter is amongst the highest of any airport in the UK.
The question has bene asked many time of those in the South West whether they would fly from anywhere other than Exeter Airport and the answer has always adamantly been "No". This has entailed at times significant subsidy of the fare.
The only possible aircraft we could charter in 2019 would require a seat price a prohibitive £270 higher than that of the Stansted flight so the stark choice was to abandon operations from West Country, or subsidize the price.
Forecasts were obtained suggesting it would be possible to fill these seats if it was priced at parity with Stansted and after much agonising the SOLL Council voted unanimously to proceed on that basis.
We did this because we want the numbers of Sick, Helpers, young people and students to grow – but despite the very determined efforts of some very able people, with the best will in the world we are far from being able to fill an aircraft ourselves for the foreseeable future.
Sadly, the forecast numbers were not achieved - despite 15 people generously being prepared to fly from Exeter instead of Stansted.
Subsidies of that magnitude are unsustainable every year – it is unfair on those who come after us if we run our funds down so rapidly that they are denied the experience of Lourdes in future years that we have enjoyed.
This was explained both at meetings with West Country pilgrims in Lourdes and in writing to them following the pilgrimage. It has now been recognized that operations using a chartered aircraft from Exeter are untenable.
Consequently for 2020 we are now able to offer a 13% price reduction from the South West – without any subsidy.
This year Steve & Christine Kelly and Mike Devlin have increased the numbers coming from Keighley substantially despite the counter attraction on the same dates as a local pilgrimage to Knock.
Sounds easy to say – but that "increase in numbers" involves much effort, time, and personal cost. Opinions on prices, accommodation, and events are voiced every year and are of concern to many pilgrims who ultimately seek reassurance. It is difficult to explain the many complexities and challenges – for example the recent levies imposed on every pilgrim by both the town and the sanctuaries.
It is also difficult to summarize the sheer amount of work that takes place in the background, unobserved.
A few examples:
Our new insurers imposed a number of additional conditions which would have dramatically restricted how we operated at airports, what duties our helpers could undertake, and prohibited the Society's overseas friends from participating in the pilgrimage. But for John Mitchell's steadfast negotiation of the issues flagged, these limitations would have greatly and very visibly restricted our operations.
Another example is the marketing flair of Sacha Blanchard who has produced the very professional fliers and networked extensively creating a new cluster of pilgrims centred around Salisbury. When new people join us, we take it for granted – but they would not be there were it not for those who work behind the scenes.
Booking the venues in Lourdes has long been a minefield as it has long been an array of disparate fiefdoms. Lucy Wearing has undertaken this activity – and also wrestled with the new Lourdes central booking application which was launched untroubled by the tiresome processes of system or stress testing.
This year, thanks Brian McCarthy, we have remote access to the SOLL database which has enabled the input of the records for those attending the pilgrimage to be shared. This greatly enhances the accuracy and timeliness of the information required without burdening Ray Harrison, Win Corrigan, Jim Burns and Billie Clinton who have shouldered the enormous burden of running the office for many years.
I will conclude by recording our society's and my personal thank you to Mary Tomlin who has completed her time as Treasurer.
Next year there will be further Council vacancies, please consider standing.
Travel proposals for 2020
The Lourdes pilgrimage dates are Friday 22nd May 2020 to Friday 29th May 2020
Our Main Tour Operator is Tangney Tours
All prices have seen an increase in 2020
Booking forms will become available on TT website- www.tangney-tours.com
Flights only prices will be from Stansted £391.00
These have again been subsidized to encourage booking, flight only has increased by 5% (2019 7.5%)
Travel from Keighley Massabielle will be a combination of coach, Flight BA Heathrow to Toulouse, with coach transfers on to Lourdes.
In 2020 there will be no flights from Exeter. However arrangements for Travel from Bristol airport to Toulouse with transfers to Lourdes have been arranged for limited spaces
Train Option
Once again there is an option for train travel, direct to Lourdes via Paris.
All travel information will soon be available on the SOLL website-
One of our focuses for this year has been the updating of reports using our database so it will produce data at the push of a button and lead to more accurate numbers especially as we approach the Pilgrimage, thanks to Dave Farrow for his initiative on this as it worked really well and produced detailed and varied reports to track Pilgrimage numbers.
As a continuation from last year it has been an on-going discussion to provide remote access to the database. Brian McCarthy has been working on providing a solution to this issue which was implemented very successfully. Now other members of the committee are able to help upload data and have up to date information ready to hand. Many thanks go to Brian on achieving this objective.
This year has also been a time to look at the various forms we use to obtain booking & payment information, Sacha Blanchard is currently taking the lead on this so hopefully we should have more simple forms to send out to our Sick Pilgrims, as the current ones can be difficult to fill out.
We are still looking for any relevant articles you may have for our website and Pilgrims Way. This may take the form of write-ups, information, articles of interest and of course, photos are always welcome. Do take the time to consider this and let the office have these at any time in the year as they will be forwarded to our Editors, new copy is most welcome, so don't be shy!
We owe a great deal of thanks to those who are in the office team Ray, Wyn and Billie who keep communications open with our Pilgrims during the year and cope admirably especially near the Pilgrimage date.
We look forward to a successful Pilgrimage next year in 2020 and to this end our plans have already started. Please make a conscientious effort in trying to encourage new nurses, helpers and sick pilgrims alike to travel with us to Lourdes as there is nothing more powerful than sharing personal experiences of what Lourdes means to all of us individually.
The net operating deficit in funds for the year was £75,280 as set out in the accounts on page 5. The trustees are aware that expenditure needs to be reviewed continuously as income from donations, fundraising and investments has not been sufficient to cover the Society's operating costs and overspends have been mitigated to a limited extent by gains on its investments and by the receipt of legacies. Since the Plymouth Diocesan Pilgrimage now travels to Lourdes in August the Society is no longer able to share flights with them. The trustees do their utmost to secure a flight from Exeter Airport but it becomes harder each year. Few airlines operate from there so the full cost of flying from their base to Exeter would mean that to operate a return trip would need six flights, four being empty. The cost of fuel and operations at Exeter is amongst the highest of any airport in the UK.
Background and context are explained in the Chairman's Report.
The budgetary process is not an exact science. Resources are allocated to particular targets but limits set cannot be rigidly applied. Our proud boast is that no sick pilgrim should be turned away on the grounds of inability to make a contribution. Although the number of sick pilgrims is finite the number requesting support and the numbers of helpers asking for grants is not known until very late before the pilgrimage sets off. We also allow a contingency for pilgrims who, for whatever reason, apply late or, perhaps, who are referred to us by other pilgrimage groups. We are delighted that our contacts with other Lourdes pilgrimages has allowed us to offer places to sick pilgrims who would otherwise not have been able to make a pilgrimage. The Society aims to have enough capital to produce an income sufficient to make a significant contribution towards the anticipated cost of running the Society (mainly pilgrimage costs) for about 5 years without being concerned about fluctuations in donations and legacies and other fundraising income. The Society relies on the continued generosity of its supporters in their donations and various fundraising initiatives. The investment policies of the Society remain cautious, with the aim of maintaining sufficient liquid funds to meet the whole cost of the pilgrimage for the following year. The Society reviews regularly the balance between maintaining its funds in liquid form and placing on the markets, and takes advice from its investment advisers on the timing of the conversion of cash reserves into quoted investments. The Society maintains an ethical investment policy in accordance with its position as a Catholic charity.
Formal approval of the accounts would be voted at the Council meeting in January.
Appointment of Independent Examiner
David Kirk was reappointed by vote at this meeting.
Report on Fund raising Activities
Bonus ball drew an income equivalent to grant to 2 sick pilgrims. Priorities are to examine the possibility of establishing SOLL, as a donor charity for Smile Amazon, and in securing place for the London Marathon.
Sonali's entertainment event proposed for January would be supported.
Allan Cook questioned whether trustees were sufficiently informed of their responsibilities.
The Chairman offered to research & publish the url of an on-line overview of what is required of a charity trustee.
Alan Warren spoke the following at the AGM:
Ryanair's Dublin - Lourdes operation has expanded and pilgrims from Liverpool have found it viable to travel to Lourdes via Dublin.
The tourism information centre for the town will be relocated to the currently vacant area adjacent to Hotel Ste Marie which it was felt would increase the hotel's attraction as a going concern to potential bidders. This is important as that hotel is the hub for the Society.
Ray Harrison and Allan Cook proposed and seconded thanks to Mary Tomlin who has completed her 6 years as Treasurer. Her considerable work in pulling together the accounts was appreciated by those at the AGM and by the Society.
Barbara Murray commented that despite her 60 years on our pilgrimage, she had not appreciated how much work was required in the background.
The meeting closed with a prayer led by Ray Harrison.
Dave Farrow, Chairman
"

Want to get young people involved in the Church? Take them on a pilgrimage

"
National LOTTO Bonus Ball fundraising game - weekly prizes:
Two numbers are currently available; 21 and 52. - contact the office for details, 020 8848 9833, enquiries@soll-lourdes.com
The SOLL Centenary Club raises money for our Sick Pilgrims - your support would be greatly appreciated:
If you are not yet a member of the Centenary Club and want to be then please contact the Society office and we will send you forms so that you can be in next month's draw.
It's just £5 per month and the more people that join the bigger the prizes will become!
Please note that half the money raised each month goes towards Society funds.
Thank you for your support ...more details
------------------------------------------------------------------------------------------------------------------------
Your Prayers (last updated 6th June 2020)
Please remember in your prayers those who are sick especially Geraldine Taylor, Alan & Mary Daws, Patrick Cobbe, Mary Lay, Lourda O'Leary, Annette Hamill, Mary McCarthy, Fieke van den Berg, Bridie Murphy, Hazel Gray, Trevor Lee-Yow(Oct.2018), Bill Tomlinson(Nov.2018), Jade Prisk(July 2019), Veronica Mascarenhas(Oct. 2019), Theresa Mangan(Jan.2020), Julie Munnelly(30.05.2020), Walter McNeela(25/08/20), Bill Metcalf(29/10/20) and Norman Wearing(16/11/20).
We ask Our Lady to join her prayers to ours for their intentions and for the repose of the souls of all Society Friends who have died in the past few months. Especially we pray for: Terry Marsh, Eileen Keane(9/10/19), Thomas Murnane(14/10/19), Terry Clancey(30/10/19), Jack Webber(05/01/20), Michael Griffin(18/01/20), John Villiers(12/02/20), Bro.Jonathan Gell(Feb.2020), David Maunsell(Feb.2020), Patricia Sutcliffe(13/03/20), Kitty Riley(20/03/20), Hazel Hayward(02/04/20), Terry Armour(08/04/20), Mai O'Connell(02/06/20), Dr Lucille Mitchell(18/06/20), Susan Brennan(26/06/20), Lynn Lee Yow(27/07/2020), Ewa Gajewska(30/07/20), Thérèse de Casagrande(20/08/20), Theresa Hussey(13/08/20) and Norman Hawkins(October).

Please pray for the soul of former Sick Pilgrim Marie Golaszewska who died recently and for former Brancardier Tom McCarthaigh who died suddenly on October 6th,
also for Sick Pilgrim Rita McCormack, who died on October 7th.
Please also remember in your prayers Marie's and Rita's family and Tom's grieving parents, Terence and Carole.
News just in: Please add to your prayer list the souls of former Brancardier Paddy Cowan, also Richard Ryan, RIP.
May their souls and the souls of all the faithful departed rest in peace and may our Blessed Lady, Consoler of the Afflicted, pray for those who mourn.
Monthly Masses are offered for those on the list, and weekly Masses for ALL deceased Society Members including many who die without the office being notified.
Society Life Friend, Wigberto de Souza, has sent us the following requests from Pope Francis:
Weep not for what you have lost, fight for what you have.
Weep not for what is dead, fight for what was born in you.
Weep not for the one who abandoned you, fight for who is with you.
Weep not for those who hate you, fight for those who want you.
Weep not for your past, fight for your present struggle.
Weep not for your suffering, fight for your happiness.
With things that are happening to us,
we begin to learn that nothing is impossible to solve,
just move forward.
THE HOLY FATHER MAKES A REQUEST FOR PRAYERS THAT GOD PROTECTS HIM AND GIVES HIM FORCES TO MEET THIS DIFFICULT TASK . . . . SO BE IT! SO BE IT, LORD JESUS!!!
Our Lady of Lourdes pray for us
St Bernadette pray for us

Volunteer Skills and Information Update Questionnaire - ...more details
(Please download, complete and return to the Society Office)

Download New Helpers' Presentation by Bob Tomlin (RIP) - HERE

Download a copy of the Stations of the Cross - HERE