Society of Our Lady of Lourdes Pilgrimage 2023
The next Society Pilgrimage to Lourdes will take place from Saturday, May 27th to Friday June 2nd, 2023. Further details will be made available shortly.
Bishop Nicholas Hudson shares a reflection on how the Teams of Our Lady have influenced his own life and gave his parents the building blocks for their marriage
Your Stories
Have you any stories that you think may be of interest to other visitors of this site? For example you may have been to Lourdes as a "first time" Pilgrim and would like to share your experience or you may have some words of comfort. If so, please upload your submission HERE
The Society of Our lady of Lourdes makes donation to Lourdes Sanctuaries
We are pleased to announce that the Society has donated £10,000.00 to the Sanctuaries at Lourdes to assist them in these difficult days and has received a letter of thanks accordingly.

A fundraising message from Simon Chandler
Hi to all our members, friends and supporters.
I have just set up an account for the Society of Our Lady of Lourdes with smile.amazon.co.uk. Amazon smile is the charitable side of Amazon. Everything on smile is exactly the same as the main amazon website. You log into smile with your normal amazon login details.
When you first visit smile.amazon.co.uk you will be prompted to select your charity, you only have to do this once. Then just shop as normal.
Or you can use this link https://smile.amazon.co.uk/ch/1086419-0 This should take you straight to our landing page.
Amazon smile will donate 0.5% of the net purchase price(excluding VAT and shipping fees) of eligible amazon smile purchases to the charity selected by the customer.
Not everything is an eligible purchase. It will tell you next to the product description if your item is eligible.
Our Amazon donations are paid electronically every quarter.
I would be extremely grateful if everybody could have a go at this as Christmas is coming and this is FREE MONEY from Amazon and nothing in the shopping process changes for you or me, we just need to use: smile.amazon.co.uk and select our charity.
Thank you,
Simon Chandler
Fund raising committee.
Donate to the Society on "Just Giving"

Simply CLICK HERE to make your payment.
THE ACCUEIL NOTRE DAME - IN THE HEART OF THE LOURDES SANCTUARY

The Accueil Notre-Dame allows sick and handicapped pilgrims to live their pilgrimage to Lourdes in the best conditions facing the Grotto.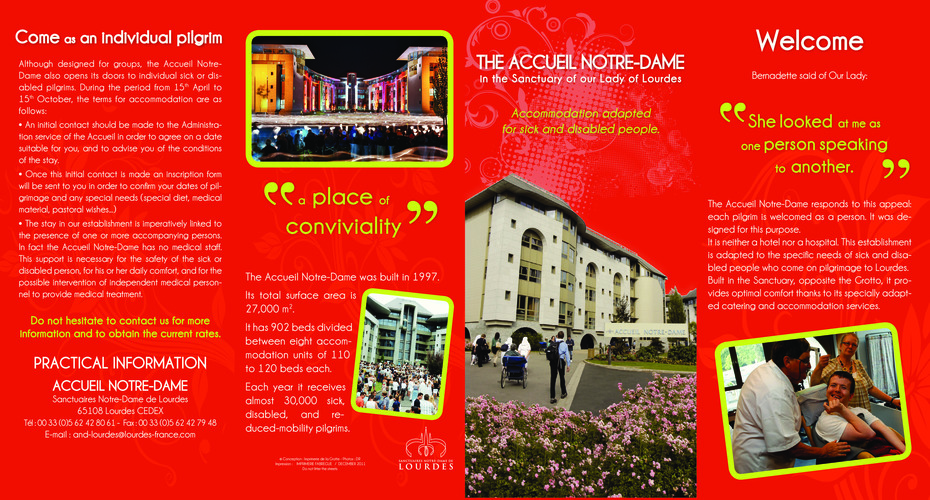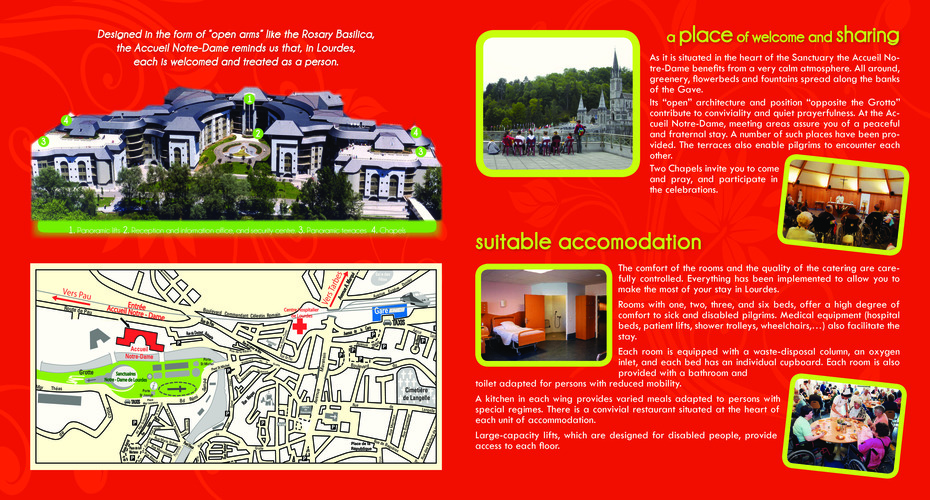 "

Want to get young people involved in the Church? Take them on a pilgrimage

"
National LOTTO Bonus Ball fundraising game - weekly prizes:
Two numbers are currently available; 21 and 52. - contact the office for details, 020 8848 9833, enquiries@soll-lourdes.com


The SOLL Centenary Club raises money for our Sick Pilgrims - your support would be greatly appreciated:

If you are not yet a member of the Centenary Club and want to be then please contact the Society office and we will send you forms so that you can be in next month's draw.
It's just £5 per month and the more people that join the bigger the prizes will become!
Please note that half the money raised each month goes towards Society funds.
Thank you for your support ...more details
-------------------------------------------------------------------------------------------------------------
Your Prayers (last updated 6th January 2021)
Please remember in your prayers those who are sick especially Geraldine Taylor, Alan & Mary Daws, Patrick Cobbe, Mary Lay, Lourda O'Leary, Annette Hamill, Mary McCarthy, Fieke van den Berg, Hazel Gray, Trevor Lee-Yow(Oct.2018), Bill Tomlinson(Nov.2018), Jade Prisk(July 2019), Theresa Mangan(Jan.2020), Julie Munnelly(30.05.2020), Mary Hopley(28/08/20), Walter McNeela(25/08/20), Bill Metcalf(29/10/20), Ann Gallagher(Nov), Tom Connell(30/11/20), Win Corrigan(26/12/20), Philomena Rodgers & Family(06/01.21), Breda Walsh(15.01.21), Kay Gravells(18.01.21), Nora McCaffrey(18.01.21) and Malcolm Bowen(Jan. 2021).
We ask Our Lady to join her prayers to ours for their intentions and for the repose of the souls of all Society Friends who have died in the past few months. Especially we pray for: John Villiers(12/02/20), Bro.Jonathan Gell(Feb.2020), David Maunsell(Feb.2020), Patricia Sutcliffe(13/03/20), Kitty Riley(20/03/20), Hazel Hayward(02/04/20), Terry Armour(08/04/20), Bridie Murphy(01.06.20), Mai O'Connell(02/06/20), Dr Lucille Mitchell(18/06/20), Susan Brennan(26/06/20), Fr William Wells(01/07/20), Lynn Lee Yow(27/07/2020), Ewa Gajewska(30/07/20), Maria Golaszewska(06/08/20), Thérèse de Casagrande(20/08/20), Theresa Hussey(13/08/20), John Kevin Dolan(13/08/20), Norman Hawkins(October), Tom McCarthaigh(06/10/20), Rita McCormack(8/10/20), Raymond Rodgers(8/10/20); Yvonne Fox(31/10/20), Norman Barnard(24/12/20), Norman Wearing, Veronica Mascarenhas(11.02.21).
May their souls and the souls of all the faithful departed rest in peace and may our Blessed Lady, Consoler of the Afflicted, pray for those who mourn.
Monthly Masses are offered for those on the list, and weekly Masses for ALL deceased Society Members including many who die without the office being notified.
Society Life Friend, Wigberto de Souza, has sent us the following requests from Pope Francis:
Weep not for what you have lost, fight for what you have.
Weep not for what is dead, fight for what was born in you.
Weep not for the one who abandoned you, fight for who is with you.
Weep not for those who hate you, fight for those who want you.
Weep not for your past, fight for your present struggle.
Weep not for your suffering, fight for your happiness.
With things that are happening to us,
we begin to learn that nothing is impossible to solve,
just move forward.
THE HOLY FATHER MAKES A REQUEST FOR PRAYERS THAT GOD PROTECTS HIM AND GIVES HIM FORCES TO MEET THIS DIFFICULT TASK . . . . SO BE IT! SO BE IT, LORD JESUS!!!
Our Lady of Lourdes pray for us
St Bernadette pray for us

Volunteer Skills and Information Update Questionnaire - ...more details