Helpers Page
Helpers Policy DOWNLOAD
Skills Update DOWNLOAD
Global Health Insurance Card application https://www.nhs.uk/using-the-nhs/healthcare-abroad/apply-for-a-free-uk-global-health-insurance-card-ghic/
ACCUEIL - NEWS
The Accueil Notre Dame has undergone some refurbishment since 2018. Here are some photos of a refreshed room which we will be using when on Pilgrimage.
The changes, though subtle, are effective e.g. lowering the bedside boxes to bed height; substitution of a small coffee table instead of the large rectangular one not used much.
We also appear to have received new hoists as well!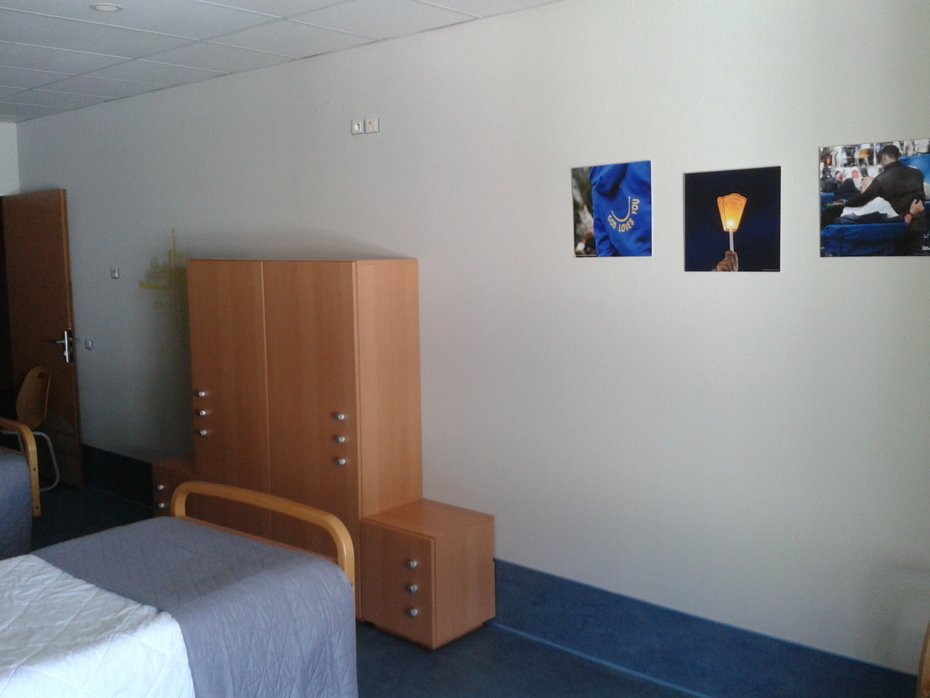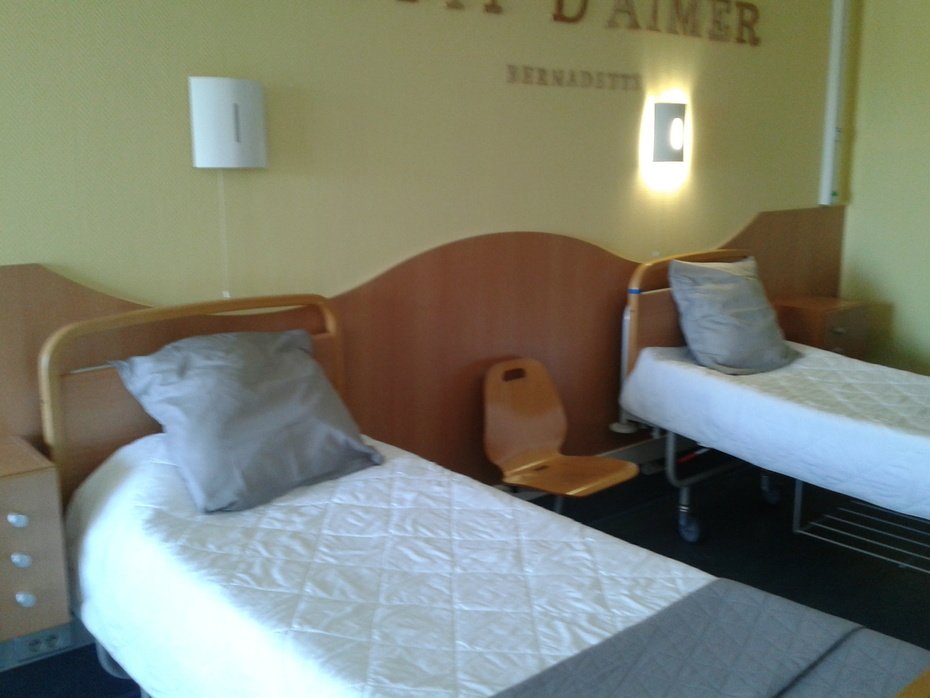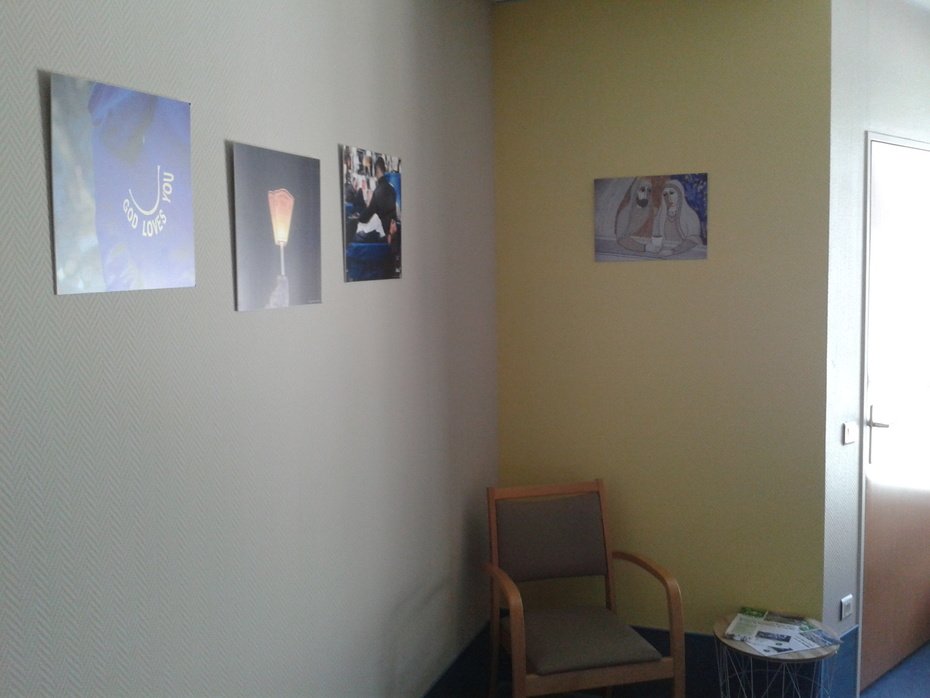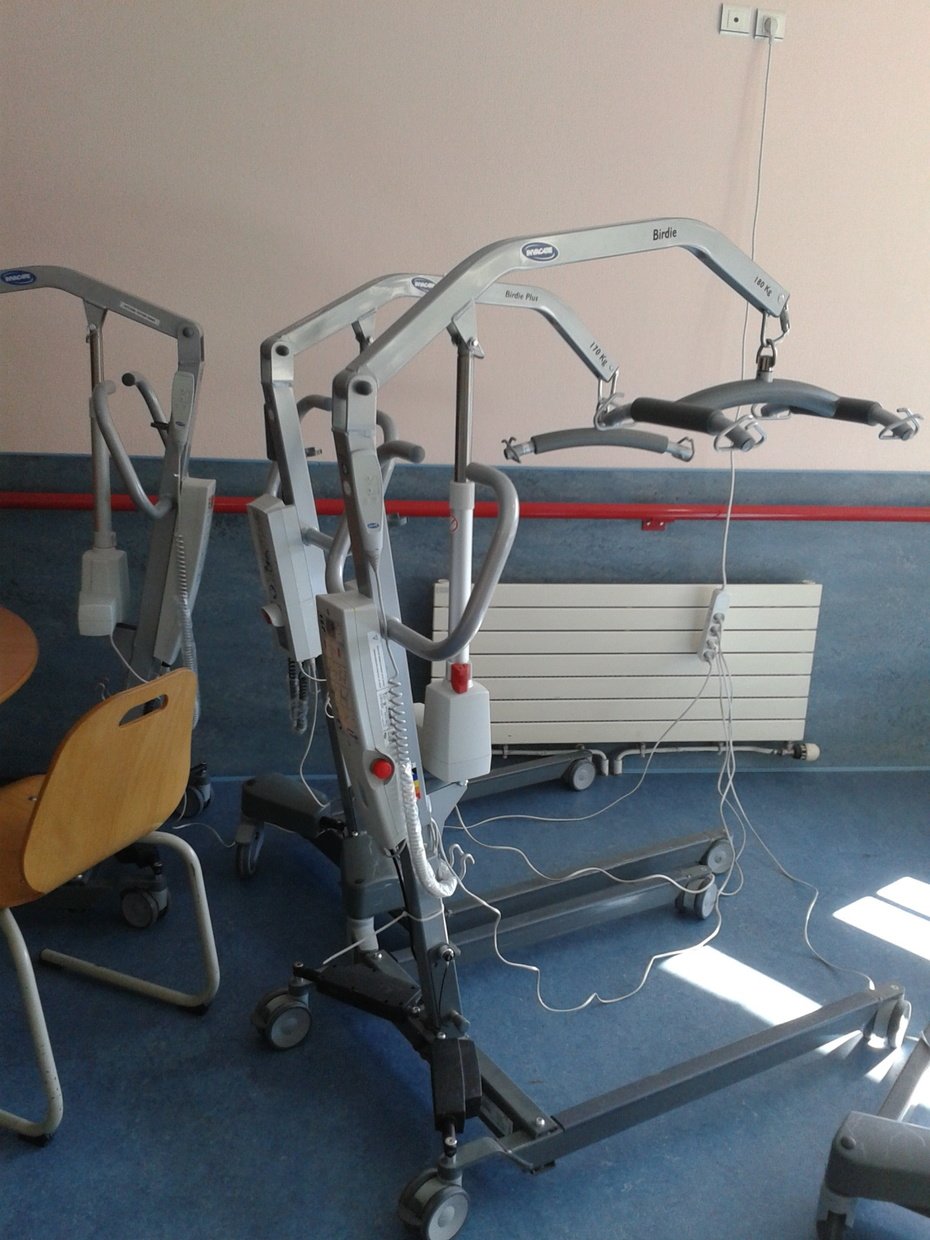 When in Lourdes - A guide to the new helper

Lourdes is a strange and confusing place, full of people sporting colourful uniforms, badges, medals, tabards, fancy headdresses, and above all, cheerful and welcoming faces! You will be confronted by the Tower of Babel as you hear a cacophony of unfamiliar languages, especially when someone appears to be giving you instructions that you do not understand. Even if you think you understand French, you will soon realise that Lourdes is not typical of France and that much of the vocabulary used is specialised and different.
So what you need is a simple guide to the new pilgrimage helper, and here it is:
The Sanctuary of Our Lady of Lourdes is both a place and an institution. The place compromises the "Domaine of the Sanctuary" a zone into which you enter through clearly marked gates and within which special rules apply. The first thing you will notice is a total absence of commercial activity, in stark contrast to the chaotic conditions outside. Inside the Domaine you are expected to present yourselves respectfully – no smoking, sensible dress, no animals and above all in certain zones, a respect for the peace and tranquillity of this remarkable place of prayer.
The Sanctuary is also the name of the institution which runs the place, under the direct authority of the Mgr. Jacques Perrier, bishop of Tarbes and Lourdes. The Sanctuary has a small paid staff of chaplains, sacristans, administrators, maintenance people, security guards, cleaners and so on. The Sanctuary is also responsible for financing the whole place, so we will be asked to take a collection at least once during our pilgrimage.
However, in addition to the small number of paid staff you will also come across a huge army of volunteers who do most of the tasks in running the place, and above all, in caring for the huge numbers of pilgrims both able-bodied and sick and handicapped. You are about to become one of those volunteers.
The Society of Our Lady of Lourdes is recognised by the Sanctuary as one of the official organisations permitted to bring an organised pilgrimage group into Lourdes. Most of these pilgrimages are representative of their dioceses, or in some cases religious orders, or as in our case, an independent organisation (from the UK a registered charity). A pilgrimage is expected to have a Director, who is often a priest, and to have a programme of religious events during their stay in Lourdes, some of which will be for the individual pilgrimage but also many will be held jointly with all the other pilgrimages present at that time. Within each of these organisations is also recognised the group of pilgrimage volunteers or helpers and that organisation is called a "Hospitality". The Society of Our Lady of Lourdes is recognised both as a pilgrimage and as an Hospitality (Hospitalité in French).
Each of these "accompanying hospitalities" (hospitalités d'accompagnement) provides teams of both professional medical and lay volunteers to accompany their sick and handicapped pilgrims from their home countries and environments, to care for them while in Lourdes, and to return with them to their own home country or region at the end of the pilgrimage, usually lasting between 4 and 6 days. The sick pilgrims might be accommodated in hotels, of which Lourdes has an enormous number, or in one of the 3 purpose built shelters for the sick, known as the "Acceuils". These institutions, which must not be called hospitals, are provided by the Sanctuary and their supporting bodies, both religious and lay. The Society uses the "Acceuil Notre Dame" a beautiful new building within the domaine and a very short distance from the Grotto.
Based only in Lourdes is another Hospitality, the "Hospitalité Notre Dame de Lourdes", often just called "the Hospitalité" which is complementary to the Accompanying Hospitality like ours. The Hospitalité was founded in 1885, and last year celebrated its 125th birthday. It is multinational and multi-lingual, and has thousands of members drawn from all over Europe, and increasingly, the world. Many members are also members of pilgrimage hospitalities including the Society. Each member is committed to spending a week or more in Lourdes, apart from their own pilgrimage, but providing a service of welcome to all pilgrims. You will find teams from the Hospitalité at the airport to welcome our sick pilgrims, and they provide a similar service for the many thousands of sick pilgrims who arrive each year by train. They provide teams in both the mens and womens baths, and teams to maintain good order in the main ceremonies in the Esplanade, the Grotto and in the underground basilica of St Pius X. If you are on duty with the Society on any of these occasions you will be temporarily assigned to the Hospitalité and must comply with the instructions of the person in charge (often wearing a tabard or "dossard" with red lettering).
Members of the Hospitalité wear a distinctive medal with blue ribbon as a sign of their commitment, and also a name badge with flags, which are supposed to indicate what languages they speak. Trainee members, known as "stagiaires" just wear the name badges.
We very much encourage pilgrimage helpers, who are known in Lourdes as "Hospitaliers (men) or Hospitalières (women)", to sign up as "stagiaires", but not during our pilgrimage week. We have a large number of our members with dual membership and it is a great help to mutual understanding.
So, you will be learning more from your team leaders and other members of the Society on how to care for our sick pilgrims, and to take part in the events of the pilgrimage week. You will also learn to be part of the large family of Lourdes volunteers, from this country and from many others, all with the common purpose of listening to and following the message of Our Lady as given to us through St Bernadette in a curious little mountain town 153 years ago.
Glossary:-
Hospitalier volunteer helper of pilgrims, especially sick pilgrims

Grotte Grotto (strict silence to be maintained)

Esplanade large processional area

Basilique du Rosaire Rosary Basilica

Voiture large blue invalid carriage

Pèlerin pilgrim

Brancard stretcher

Dossard Tabard worn by some hospitaliers

Mécanique conventional wheelchair

Pèlerinage pilgrimage

Piscines the baths

Accueil Accueil Notre Dame

Stagiaire trainee Hospitalier

Fourgon bus for the sick pilgrims

Distinguée large beer (500ml)

Demi small beer (250ml)

Panaché shandy
Petite Chaise small carrying chair