Sadly, our Virtual Pilgrimage has ended.
We hope you enjoyed all the films and masses throughout the week. We would like to thank everyone who participated and contributed: Archbishop Kevin who led, opened and closed our Pilgrimage week; the priests who gave us such wonderful services and evening prayers; the Assisted Pilgrims, helpers and nurses who all gave of their time to make our celebration so special; but particularly we would like to thank the Virtual Pilgrimage Team led by Sacha Blanchard who have worked so hard to bring everything together.
We will be keeping this page live for the time being so you can revisit anytime you wish.
See you in Lourdes next year!

The Rosary from Lourdes - 2pm
Closing Mass Thursday 3rd June, 2021
____________________________________________________________________________________
Remembering the Cathedral in the Trees - Mass from OLOL Haworth

The Rosary from Lourdes - 2pm
Evening Prayers from Deacon Andrew Goodall, Ealing
______________________________________________________________________________
Remembering the Eucharistic Procession - Father John McCay
Water Service - Father Jim Duffy
Rosary from the Grotto at Lourdes 1st June, 2021 - 2.00pm
Evening Prayers - Father Anthony Paris
_________________________________________________________________________________
Stations of the Cross with Cardinal Vincent Nichols
Rosary from the Grotto at Lourdes 31st May, 2021 - 2.00pm
What Lourdes means to me - a short film
Evening Prayers with Father John McCay
_________________________________________________________________________________
WELCOME TO DAY 2 OF OUR VIRTUAL PILGRIMAGE 2021
SOLL Virtual Pilgrimage Programme (Download the full programme schedule here)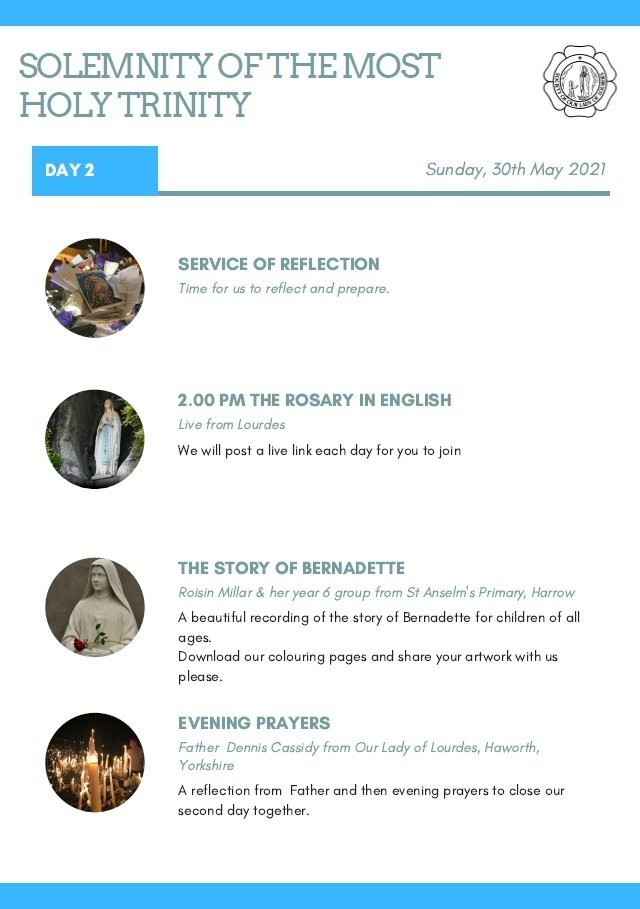 Rosary from the Grotto at Lourdes 30th May, 2021 - 2.00pm
The Story of Bernadette as told by the children of St. Anselm's
Catholic Primary School
Evening Prayers from Leeds
__________________________________________
WELCOME TO DAY 1 OF OUR VIRTUAL PILGRIMAGE 2021
SOLL Virtual Pilgrimage Programme (Download the programme schedule here)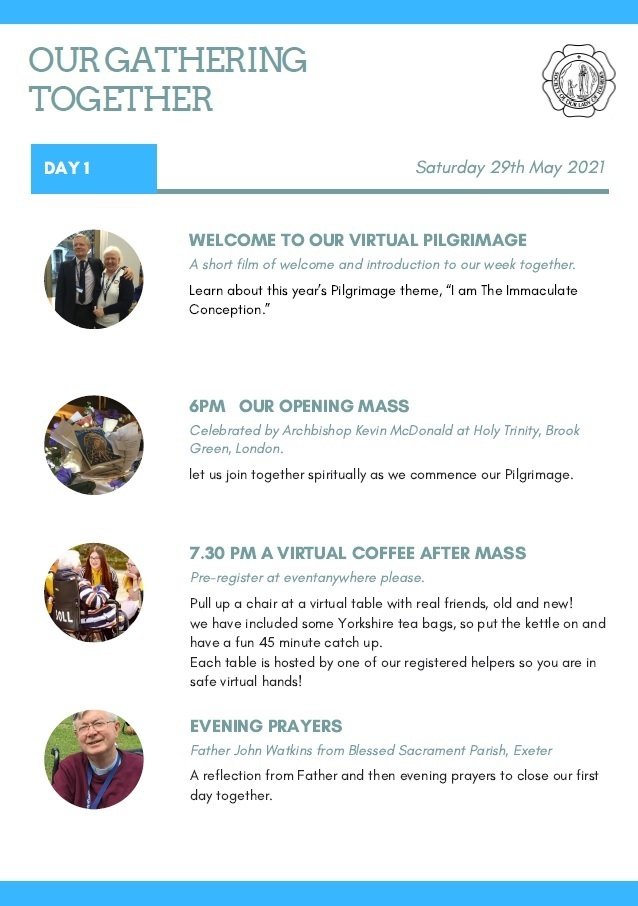 A short film of welcome and introduction to our Virtual Pilgrimage Week
Please join us after mass at 7.30pm for our first Virtual Coffee Meeting on our new Event Platform:
Evening Prayers with Father John Watkins