Important News - Lourdes Pilgrimage 2021
SOLL had deferred making a decision for our annual pilgrimage in the hope that the current Covid19 situation would have improved and we could plan with greater confidence.
Around the country other groups have had to make similar hard choices. We have been in touch with Lourdes, taken advice from the Lourdes Medical Director and studied the guidance available that explains how they are dealing with potential pilgrimages.
SOLL has a duty of care for all pilgrims and helpers and especially those we support and care for in the Accueil. The view therefore was taken by the SOLL Council to cancel the pilgrimage 2021 in its current form for the following reasons.
prevailing travel situation
lack of available medical support
complexity of safeguarding people in Lourdes
French Covid19 restrictions
We fully understand and appreciate how upsetting this decision is especially after last years cancellation.
It is easy to just 'stop', but by doing so it makes it harder to start again: should 2022 prove to be 'normal', three years will have elapsed since our last pilgrimage. Although we may not be travelling far in 2021 it is important to keep the engine running.
We will again create a Virtual Pilgrimage for the week we would have been away. Friday 28th May, 2021 to Friday 4th June, 2021. Please keep these dates in your diary
Additionally, if there is sufficient support from pilgrims, we would propose the following;
It is possible we might create a "parish type" mini pilgrimage to Lourdes in May 2021 that would be for a shorter duration. Such a plan would be by its nature small and would be no longer than 4 days BUT critically, would not involve the Accueil element. Pilgrims who can travel with independence within this pilgrimage/group and do not need medical or dietary support are eligible to join. The Pilgrimage would comply with the official UK and French travel restrictions in force at the time of travel. SOLL will not provide medical support of any type whatsoever. Bookings will be taken and deposits refunded if necessary after a Go/No Go decision taken 6 weeks before departure.
Recognising that SOLL has friends from across England we could plan a one day local pilgrimages.
Osmotherley, North Yorkshire. The Lady Chapel Shrine of Our Lady of Mount Grace, Summer 2021
Hayes, West London, Summer 2021
Devon (Location to be decided), Summer 2021
Finally, it may be possible to create a package and programme for a pilgrimage to Lourdes in the same format as proposal 1 for mid October 2021. The same restrictions in regard to medical and dietary needs would apply as well as the following any Covid19 restrictions in place at that time.
All options will require considerable work by our team and will only proceed if there is sufficient indication of solid support.
Please contact the Society by email, phone, or easiest of all by using this link Society of Our Lady of Lourdes 2021 (google.com) by Friday 19th February at the latest please to register your interest in one of more of the above three options stating, for option 2, which local pilgrimage you would support.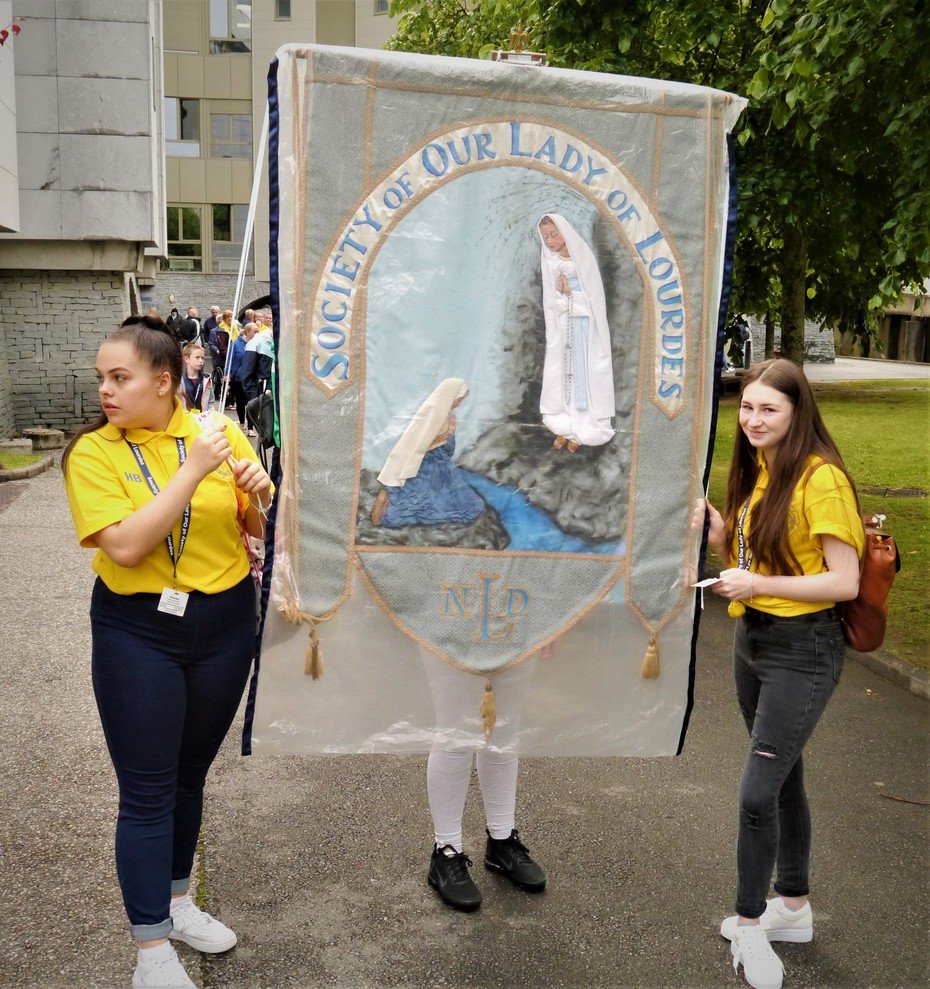 Further updates will be published on the "NEWS" page as they become available

Our care teams provide support and accommodation for assisted pilgrims in the purpose-designed 'Accueil':