Pilgrimage 2022
Important News - Lourdes Pilgrimage 2022
Lourdes is such a special place in so many of our hearts, and we are delighted to announce our plans to return together, as the SOLL family, after 2 years of absence.
It is without doubt one of the most challenging years to be arranging a pilgrimage and we want to reassure you that the safety and care of all our pilgrims is very much at the heart of our planning. The rules are changing all the time and we are working closely with our travel agent, Tangney Tours, and the Sanctuary in Lourdes, to navigate a complicated path. This year's pilgrimage will be a little different, as I am sure you can imagine!
We intend to all fly together, on a plane chartered from Stansted, directly to Lourdes on the morning of Friday 27th May, returning Friday 3rd June.
DOWNLOAD THE BOOKING FORM BY CLICKING ON THE IMAGE BELOW
OR CLICK HERE TO BOOK ONLINE DIRECTLY THROUGH TANGNEY TOURS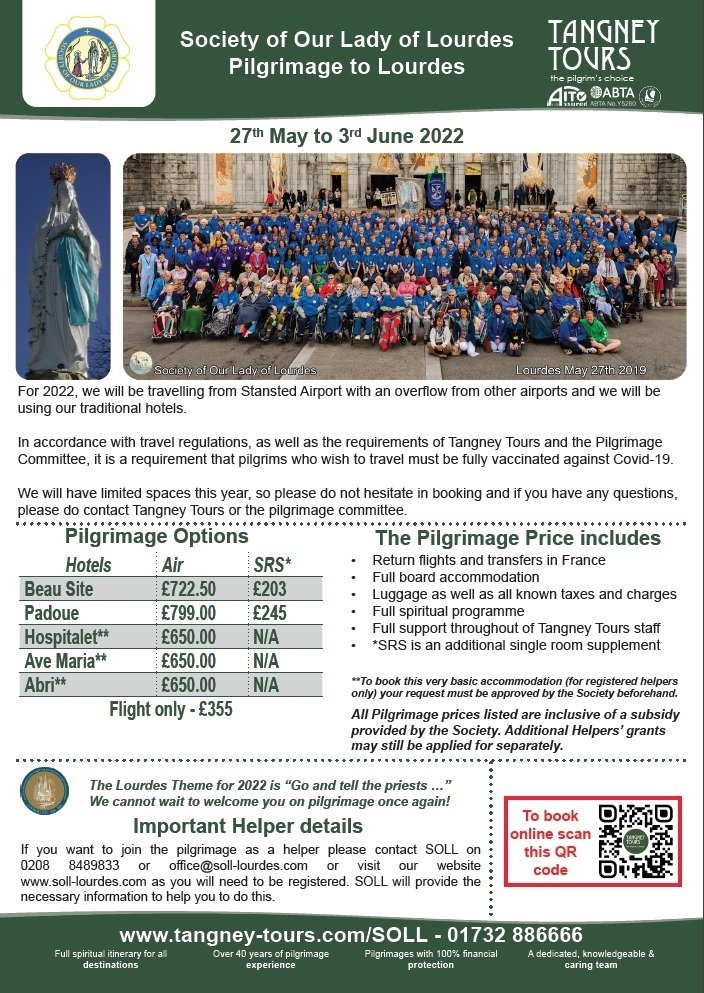 This form the form will be posted next week to those on the TT distribution list plus to those who have expressed interest and have supplied their full address and live in the UK.
SOLL is heavily subsidising, for 2022, the price for travel and accommodation.
The flight only price is £396. You may select your preferred accommodation on the application form which will be available shortly by post and online. The prices this year are inclusive of travel insurance, which covers quarantine and repatriation, the Sanctuary levies, transfers in France, taxes, and of course a full guided programme of events and plenty of Yorkshire Tea!
Due to the complications of the pandemic, we are unfortunately unable to
accept any independent travel this year
anyone who is not fully vaccinated.
We have put together some guidance on later on this page, but please do get in touch with the office if you have any questions.
MAY 2022 - TOGETHER AGAIN IN LOURDES
The 2022 Pilgrimage will look a little different this year, and yet we are determined to make our best efforts to get the SOLL Family back home to Lourdes!
We would love to welcome you back, or for you to join us for the first time so we want you to have as much information as we can give you, to enable you to make an informed decision about travelling.
We have decided it's best to travel as a closed group this year. This means that we will all travel together on a single plane from Stansted on Friday 27th May. Timings have yet to be confirmed but please be aware that it will be a VERY early start, and you will need to consider travel to the airport. Early booking will help us enormously with logistics and we are looking at options for those with long journeys who may need to stay in a hotel near the airport the night before.
Assisted Pilgrims
Those wishing to travel with the Pilgrimage, and who will be requiring help and assistance, must be aware that at this time that they may be at a higher risk than normal. The Pilgrimage medical team will assess each person booking on an individual basis, to ensure that the Pilgrimage will be able to cope with those needs. Please be aware that certain medical conditions may put the pilgrim at a higher risk, and it may not be advisable to travel in 2022.
Medical forms must be completed, and the Pilgrimage medical team will assess your completed form for suitability to travel.
The Pilgrimage medical team will be able to continue any treatment plans in place before the Pilgrimage. They will not be able to change medications or prescribe any additional medications.
Pilgrimage helpers + volunteers
We welcome all the helpers / volunteers as in previous years, before Covid. You are asked at this time to consider your own health and ability. If you have any uncertainties, please contact your Doctor, or Surgery Nurse, and ask for their advice as to your fitness to carry out any role on the Pilgrimage. Perhaps this is the year that you come as a praying pilgrim and let us serve you!
Please complete the Helper Application Form and return ASAP. A member of the team will be in touch.
Becoming unwell
If someone does become unwell whilst on Pilgrimage and is unable to return home with the Pilgrimage flight, the Pilgrimage medical team and other helpers may be able to find people to stay behind as a carer. The insurance will arrange for a family member or friend to fly out to support any pilgrimage member who may have to stay behind. Repatriation to a person's home will be arranged.
In the event of a positive Covid test then the procedures as set out by Government regulation will be followed in full.
Your early application would be much appreciated this year. Do get in touch with the SOLL office if you have any questions. We love to hear from you!
We keep you in our prayers as we ask you to remember SOLL in yours. God Bless.
Our Lady of Lourdes, Pray for us.
Ste. Bernadette, Pray for us.